In the early-1970s I lived in Devizes, Wiltshire. It was then that I became interested in folk music and went to my first festival. The year was 1972 and it was the first Chippenham and Lacock Festival - held in the delightfully picturesque village of Lacock. Among the guests I remember well were June Tabor, The Ian Campbell Folk Group and the hilarious John Alderslade, who went on to become the organiser of Trowbridge Village Pump Festival. But for me the star weekend was Tony Rose. After watching his set I decided I had to have a concertina like his. Of course I knew nothing then about the different types of concertina or where one could buy one. Someone told me the best places to look in were junk and antique shops, something I dutifully did wherever I went. There were plenty of ancient, battered one-row melodeons, mostly with leaky bellows and broken reeds, but could I find a concertina?  Finally I did find one in an antique shop in Bath but, at £30, it was out of my price range. In the end I gave up and made do with a a leaky old melodeon my then brother-in-law had bought me one Christmas. After weeks of futile attempts I finally managed to play Monks March - after a fashion.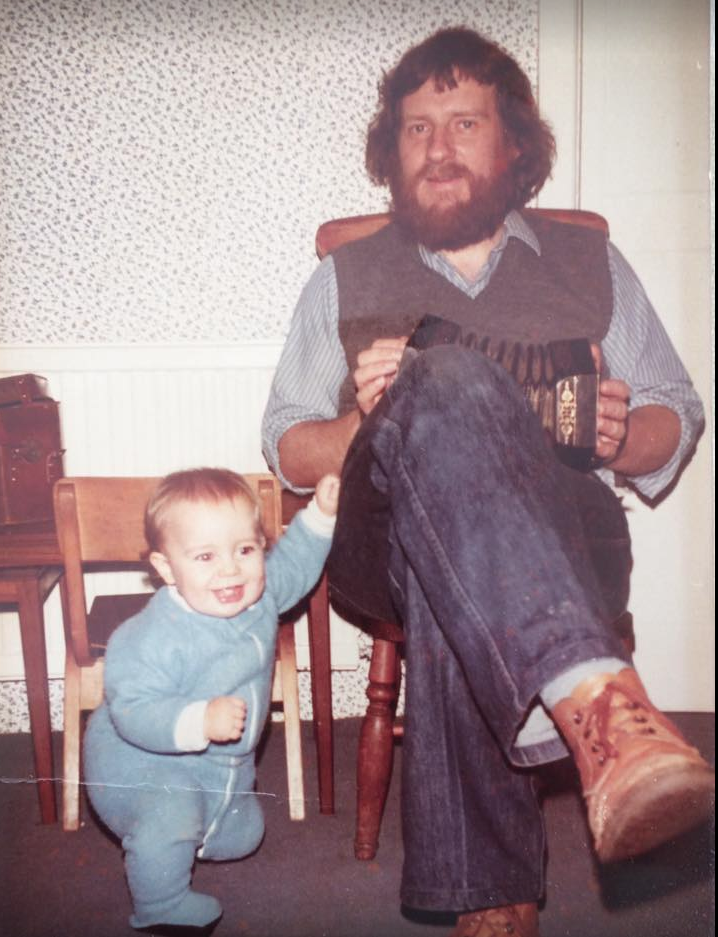 At around this time, Neil Wayne started producing Free Reed, a magazine devoted to concertinas and melodeons. It was then that I found out about the three types and decided an Anglo would be best for me, because, apparently, it's pull-push action suited melodeon players. In one issue of the magazine there was a small advert for Hobgoblin, a small, very small business located in the grounds of a large house somewhere in the middle of Sussex. I'd moved to Essex by then so in a couple of hours I was rooting around in a small wooden shed filled with second-hand concertinas. I couldn't believe my luck. By then I'd saved enough money to splash out on a lovely rosewood ended Jones instrument. As I remember it cost around £100, but I was over the moon even though once I got it home I was forever trying to solve little problems, like leaky bellows and reeds which didn't sound properly. I didn't find it that easy to play either despite assurances that an Anglo should be easy enough for a melodeon player to handle. Then someone told me I'd bought a Duet, not an Anglo. Back to the middle of Sussex I drove and exchanged the Jones for a Lachenal Anglo - this time parting with £150.
All went well for a few months. I learnt to play a few Morris tunes, but soon I realised that the bellows were getting leakier and making playing faster tunes impossible. It was suggested that I have completely new bellows, and was pointed in the direction of one Nick Driver, a bones player who lived at Laxfield. It turned out that he didn't do the repairs himself, but sent instruments to the United States to be fixed.  I had no reason not to trust Nick, so I left him the Lachenal, expecting to get in back with brand new bellows in a few weeks. Twelve months went by and no sign of the concertina. While waiting, I'd bought myself a cheapish Italian Bastari instrument. It was sort of OK until I ran out of air while playing a succession of pull notes and watched with horror as the bellows caved in. I'd had enough, accepted that I'd lost the Lachenal and decided another trip to Hobgoblin was in order. This time, the shop was no longer the a small shed in the gardens of a stately home but had moved to a parade of shops in Northgate, a suburb of Crawley. What an unlikely place for a concertina shop! By now however, the shop stocked a wide range of instruments as well as concertinas, notably guitars for the more conventional musicians resident in the area, and melodeons. As ever I was wide-eyed and tried a number of their instruments, but quickly chose a fabulous metal-ended Jeffries in C/G. Best of all it didn't have leaky bellows. I knew Jeffries instruments were among the best so I paid £300 - ten times the amount I hadn't been able to afford in Bath a few years earlier. But that's not all, I was fascinated by a much larger concertina-type instrument called a bandoneon - something I'd heard had been played by famous old Sussex concertina player Scan Tester. That was another £150 - but I went home happy with the two instruments.
The Jefferies was brilliant, but I soon realised that the bandoneon was very different from an Anglo concertina. The middle buttons on both sides played pull-push like a concertina (in the key of A) but the rest of the buttons made no sense at all. I managed to play Shepherds Hey and Bald-headed Handle of a Broom on it and that became a novelty number in gigs with my then band Rough Justice.  About a year later, I had a call from Nick Driver; "Guess what?" he said. "Your Lachenal's turned up with lovely new bellows."   That second trip to Laxfield relieved me of another £200, but the instrument played well and I was happy with it.
In those days, I practised my instruments most evenings in the kitchen. I played both concertinas as well as the melodeon, but after a while my playing started waking my son sleeping in the bedroom above. This was odd because until then he had slept pretty well, undisturbed by my playing. I eventually discovered, by trial and error, that he woke when I was playing the Lachenal but not the Jeffries. I'd already realised that I didn't need two concertinas, so I advertised and sold the Lachenal pretty quickly.
I had that original Jefferies until a couple of years ago. I managed to sell it for well over £3000, more than hundred times the Bath instrument from 40 years earlier. I now have a slightly better Jeffries. I also still have but no longer play that old bandoneon; I now have a brand new one, which I am gradually learning to play a few tangoesque tunes on.
This article started out as the introduction to a history of Hobgoblin, which since those early days has become the place to go to buy almost any folk instrument. They now have eight branches and no longer operate from the shed or the parade of shops in Northgate.  Actually you can read their official history on their website.