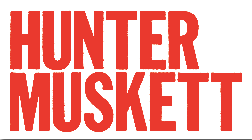 People of a certain vintage will remember Hunter Muskett playing the folk circuit alongside Fotheringay, Fairport, Pentangle and Steeleye way back in the early 70's. The band comprised Terry Hiscock, Chris George and Doug Morter and following their debut album release, Every Time You Move with Pentangle's Danny Thompson, Rog Trevitt joined on bass guitar.
The four-piece gigged at home and abroad for five years releasing a second album, Hunter Muskett, produced by Keith Relf of The Yardbirds. During that time they claim to have played virtually every club in the British Isles whether invited to or not, including a major UK concert tour with Ralph McTell. Eventually Doug joined Magna Carta and the Albion Band among others but the group reformed when Cherry Red released the albums on CD in 2012.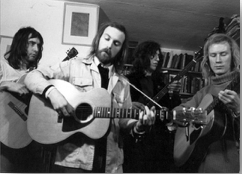 Older, wiser but still the same kids with a crazy dream (minus flares and hair), Hunter Muskett are now performing their earlier songs, like the perennial Silver Coin, alongside a new repertoire of acoustic material.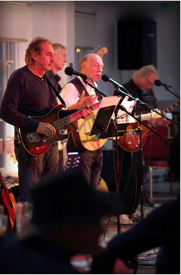 Reunited once again, the band are meeting old friends and new everywhere they play and now with two new albums to their name they're finding themselves back in demand.
A French fan recently contacted the band's website to say:
I'm keen on folkish musicians from UK, US, Italy, or France of course, who play in sixties and seventies. And for me, Hunter Muskett ….. are at the top of the Folk-rock movement pantheon. They shine softly like a pearl whose light never  failed with time, I'm sure.  Vive la musique et ceux qui la font vivre.
It can't be bettered.
Terry Hiscock