Alvar Smith - An appreciation by Derek Simpson
Alvar is not quite certain where he was born but he knows that he was born on 23rd August 1942, within the District of Wickham Market. The only child of Florence May and Thomas William Smith, he attended Tunstall School and then The Wickham Market Regional School until the age of fifteen. His father had been a career soldier in The Royal Artillery, and Alvar wanted to follow in his footsteps. However, after a month he had decided that it wasn't the life for him, and asked for a discharge. But the Army's loss was Marlesford Service Station's gain - as that's where he learned his skills as a mechanic. It was at this time he began to take an interest in music; playing guitar and singing in a local rock 'n' roll band The Spiders who performed at village hops.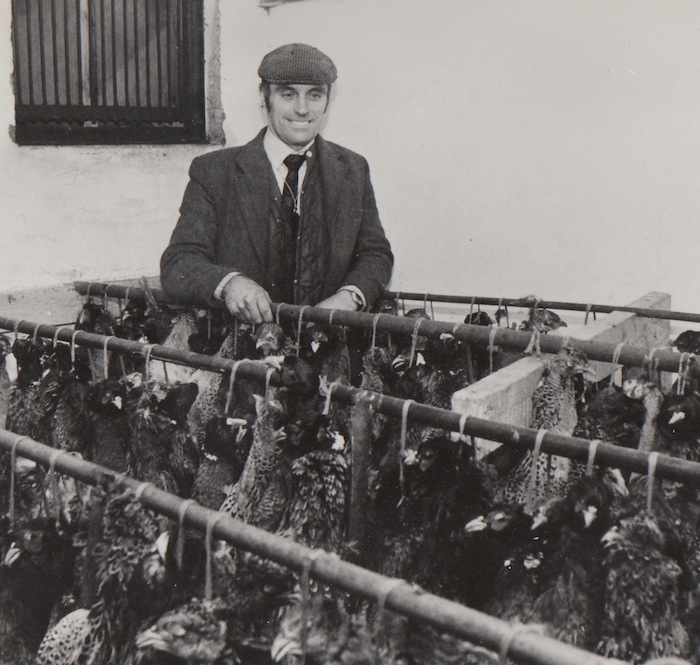 Although folk music didn't feature in his repertoire then, the memories of going to rural pubs such as The Ship at Blaxhall with his grandmother Eliza made a lasting impression. In those days, children would be allowed to sit in the kitchen where Alvar would hear the the singing of his relative Bob Scarce and other local singers such as Geoff Ling, Eli Durrant, Cyril Poacher and Wickets Richardson. His Grandfather - Arthur Smith - was well known for his rendition of The Barley Mow, A Sailor and his True Love and In the Shade of the Old Apple Tree. Although these childhood memories remained strong, Alvar didn't sing the songs from his childhood but instead took an interest in the Irish tradition. He was introduced to the songs of the Clancy Brothers by his boss at the garage who would play their LPs in the workshop. He wasn't singing at this time, except for the odd performance at parties, and wasn't a regular at The Blaxhall Ship. Responsibility entered Alvar's life in 1964 when he met his future wife Jean Hammond in Tunstall. Married in 1968, they are celebrating their Golden Anniversary this year (2018). 

When their son Chris was born in 1972 (Alvar and Jean also have a daughter, Kelli, and four grandchildren), he was still working at the Marlesford garage when a chance conversation with one of his customers, Major Dick Schreiber of Campsey Ash High House, led to a big change in his working life. The Major's  gamekeeper, Kenneth Read, had suffered a fatal accident and the Major was looking for a keeper. Although he hadn't any real experience, Alvar jumped at the chance and, with the help of his gamekeeper friends, was soon controlling vermin, outwitting poachers, breeding pheasants organising shoots and beating. When the Major died, he moved to Norton Hall working for Sir Michael Bunberry; but the gales of 1987 destroyed much of the woodland making his job redundant and ending nearly 20 year of gamekeeping. Finding a new job with George Franks at Sutton, he worked for him until his retirement over ten years ago.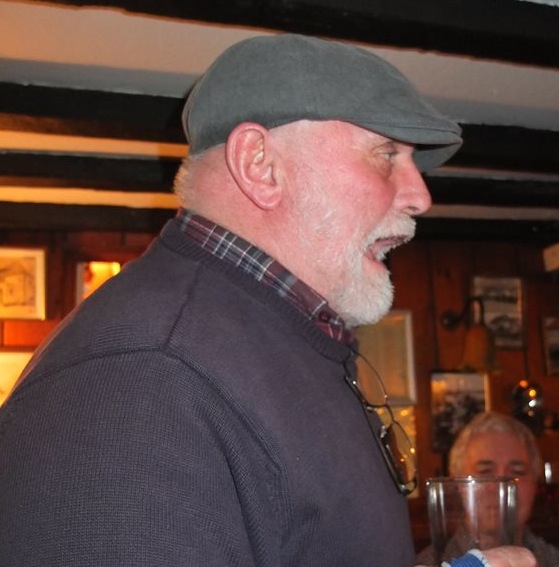 But Alvar hadn't forgotten the songs he had heard in his childhood. He began singing again in The Jolly Sailor at Orford joining the local group The Quay Street Whalers to sing at local events. His interest increased when he met with musicians and archivists John and Katie Howson, who encouraged him to perform more widely by including him in their concert parties promoting Suffolk traditional music. It was while he was with them that he met Suffolk dulcimer player Reg Reader and other local players such as Phil O'Dwyer, John O'Connor and George Cook who played together as The Alde Buoys. He then joined Suffolk musicians Shipshape, keeping himself busy singing, playing guitar, banjo and bazouki.
At about the same time, Alvar created a monthly tune and song evening at The Parrot and Punchbowl at Aldringham along with landlady Sheila Fleming, while being a valuable contributor to other sessions in The Crown at Snape, The Wheatsheaf at Tattingstone and The Kettleborough Chequers. When Terry Davey bought the Blaxhall Ship, much of the singing tradition had already been lost, but Alvar and his friend Clive Woolnough led the efforts to re-introduce the music by starting the weekly Monday afternoon sessions which are still popular today. A few years ago, Alvar was asked to join John and Katie Howson performing at Eliza Carthy's 'Legendary Nights' at The Sage Gateshead, and last year (2017), he sang at Sidmouth Folk Week.
Currently he can be heard singing as strongly as ever, accompanying himself on banjo and guitar. He often performs at Suffolk events and is an invaluable resident at the monthly Harbour Inn sessions at Southwold, and other sessions such as The Oyster at Butley. Along with Rob Neal and myself, he is part of The Harbour Lights Trio, busy performing for history groups, town twinning events, Womens' Institutes, literary groups and folk clubs. Most recently he has been working on the production of The Harbour Lights Trio's CD which will be be launched in September.