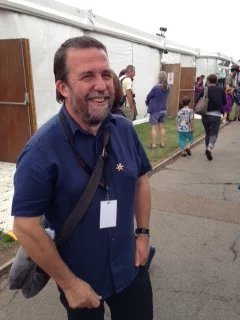 Interview by Simon Haines
Unless you are a folk performer, you may not have heard of Alan Bearman, but he has been involved in the English folk scene for over 40 years, starting as a folk club organiser, moving on to being heavily involved in organising the Sidmouth Folk Festival. He is currently Artistic and Marketing Director of the festival, now in its 65th year, as well as running Alan Bearman Music (ABM), an agency representing major artists on the folk, roots and acoustic music scene. He is also one of the few holders of the EFDSS Gold Badge, awarded for services to English folk music. Alan has famiy connections with the area and is a regular at Folk East Festival and at pub sessions in our area. Here is my recent interview with Alan
.
Could I start by asking you about your connections with Suffolk? Were your family from this part of the world?
My family were from Essex, but moved to Leiston in Suffolk in the early 1970s as I was leaving for Teacher Training College in North London. I spent many weekends and school holidays in Leiston through to the late 1980's. Some of that time coincided with Taffy Thomas and Magic Lantern being very active in the area so we got quite involved with them and went to sessions and events around the area. We have been regular visitors to the area ever since and always expected to return permanently at some point.
Would you say the folk scene in the area is special in any way? Is it different from any other rural area?
It's hard to compare with other rural areas as Suffolk and London are the main areas that I've been familiar with. Suffolk's sessions have always seemed special to me and it was listening to the likes of Oscar Woods, The Ling Family and Percy Webb that deepened my interest in traditional music. For years, it seemed to me that despite the rich traditions and great sessions there was a severe lack of concert and club activity with honourable exceptions like The Everyman. That has changed dramatically in the last few years, largely through the impact of Folk East.

Could you describe how you first became involved in the folk scene?
I started a folk club in Walthamstow at The Lord Brooke in 1976. At the time there was a successful club at The Three Blackbirds in Leyton. A year or so later I was asked to take over the organisation of that club and in around 1978 we combined the two and moved to The Chestnut Tree in Walthamstow. With the occasional change of venue The Chestnuts Folk Club ran through to early 1990's. There is still a thriving Walthamstow Folk Club with some of the Chestnuts people still involved. The organisers and residents of the Three Blackbirds club were Ticklers Jam. They went on to be long time residents at The Chestnuts. Derek Simpson and Rob Neal of Ticklers are now very active in Suffolk running sessions and playing and singing in various bands. I regularly attend the Harbour Inn sessions in Southwold, mostly run by Derek and often featuring other former Chestnuts residents.
Did you ever perform yourself?
No, I learned a few songs in the 70s but quickly decided to keep to organising.
I know you were heavily involved in Sidmouth Folk Festival for many years. How did this come about?
It was a result of my involvement in The Chestnuts. The club became quite prominent in the 1980's and we ran a number of festivals based at the club and a local theatre. At that time, Sidmouth Festival had a Director, John Dowell and a system of engaging four producers for various parts of the festival on a two-year, volunteer basis. I was asked to take the role of Song Producer for 1987 and 1988. My first year coincided with Steve Heap and John Heydon taking over the festival from EFDSS. Steve suggested that I might leave my teaching job and work with him at Mrs Casey Music. I did that in 1988 and gradually took on more of the programming of Sidmouth and Towersey Festivals and other events that Mrs Casey got involved with like Farnham Folk Day and Folk in the Fall at the South Bank. I was Artistic Director at Sidmouth until after the 50th festival in 2004 when the whole festival team stepped down, largely due to the District Council withdrawing its funding. Sidmouth Festival gradually re-established itself and I was asked back as Artistic and Marketing Director in 2012. I'm still there and putting the final touches to the 2019 programme.
You now run Alan Bearman Music, a folk music agency. Could you say something about how this came about and what contribution it makes to national folk scene?
When I left Sidmouth in 2004 I decided I wanted to stay in the folk world and so I set up Alan Bearman Music, planning to combine a number of roles. I carried on programming Towersey Festival and was offered the Programmer position for two festivals in Northern Ireland for a few years. It was the agency side of the business that took off though as I was able to build on the contacts I'd made through years of festival work. Starting with the Waterson Carthy family we built a strong roster and continue to work with venues, festivals and clubs across the UK and beyond. There is now a team of nine working under the ABM banner. Several of those also have major roles in Sidmouth Folk Festival.
I know you make occasional appearances at Suffolk pub sessions and that you're a regular at Folk East. Are these visits purely for relaxation or are they partly related to your work as an agent?
I particularly enjoy the Harbour Inn sessions in Southwold and get there most months. There is no link with the agency but my presence there has brought several singers and musicians to my attention and led to bookings at Sidmouth. I first heard Megan Wisdom there and booked her for last year's festival. Harbour Lights Trio are booked for Sidmouth this year and seven more of the Harbour regulars will be leading sessions there. I also like attending Tony Hall's sessions in Norwich and keep in close touch with Folk East organisers John and Becky Marshall-Potter. I'm a huge fan of Folk East and think many festivals including Sidmouth could learn from their emphasis on "local" and their ability to create such an attractive site and atmosphere. I'm as happy at a Harbour Inn session as I am watching Bob Dylan or Richard Thompson. I've spent many years working on what some may see as the more commercial end of folk music, promoting festivals and concerts but I have huge admiration for those at the real grass roots, usually volunteers and I greatly value the whole range of activities within the genre from open sessions to mega concerts.
Could you say a little about your new folk projects in Suffolk: The Blaxhall Sessions and weren't you hoping to get something off the ground in Halesworth or Peasenhall?
I decided I wanted to help develop more concert activity in the area. I co-promoted a couple of shows at The Halesworth Cut and one at Peasenhall Village Hall. My regular chats with Folk East's John and Becky led to us planning a series of concerts at Blaxhall Village Hall together. With great support from Rob at the Blaxhall Ship and building on the singing traditions of Blaxhall, the first series went very well with several sell outs. The events in the Hall usually finish by 9.45pm with the performers and many of the audience moving on to The Ship for a session. The second series is planned for 2019-20 and we meet again soon to discuss further developments.
Much more generally, how do you see the folk scene developing locally and nationally in the next 20-30 years?
It's hard to tell. There is a wealth of young performers coming through but a serious gap between my generation (and older) and that younger generation. That gap applies to audiences, performers and organisers, so I am concerned about who will be doing the sort of thing I do when I'm no longer active. I think the Suffolk scene is stronger now than at any time I can remember, but in some areas like Norwich it seems very fragmented with some key venues largely moving away from promoting folk. Much depends on there being a new generation of organisers who promote events that younger generations want to attend. There has been a surge of young people attending folk festivals and dance events over the last 20 years but that's not yet led to significant numbers of them attending seated concerts either in venues or at festivals. Promoters will have to adapt what they offer to draw in that audience who are interested in the music but not often attracted to the more formal concert settings.
How would you say the scene has changed since you first became involved?
The scene was very much focused on folk clubs when I started. Festivals have largely taken over and the music is much better represented in cross art venues. It has spread beyond the back room of pubs. I've made it a bit of a mission, some would say it's an obsession, to help get folk a higher profile in the broader arts world. Our work at the prestigious Kings Place has helped the venue become one of London's premier folk venues with our music seen as important and popular as classical music. That's led to us becoming Artistic Associates of Kings Place on the same basis as major orchestras. That's about heightening the profile of folk music and getting it noticed as a serious art form. Despite this success with high attendances and increased profile, the audience is broadly the same generation as when I first got involved, just older. That said, there are many more young performers playing at a very high standard albeit to an audience largely of their parents' generation.
So given what you've just said, what advice would you give to a seriously enthusiastic young folkie who wants to get on in the folk world? What are the long term career prospects for folk musicians now in their twenties?
There are huge numbers of excellent young performers trying to get established on the folk scene but not nearly enough gigs to go around, The degree courses at Newcastle and Leeds are great in many ways but also add significantly to the pool of ambitious young performers each year. I would urge any aspiring young performer to use other skills they may have to work in other aspects of the music as teachers, administrators etc so they are not reliant solely on gig income. I would also encourage them to get out and play as much as often both to gain experience and to be seen. I'm aware this is not as viable as it was when there were plenty of clubs offering floor spot opportunities and that for many young performers it is just not financially possible to play for nothing in a much harsher economic environment. There are plenty of opportunities for promotion via social media and internet platforms but these are not always reaching the older generation of bookers.
I suspect the best and those most able to create and take their opportunities will prosper but many others will have to perform part-time or even look for other career paths. I would also urge young performers to be as self-sufficient as possible and not be in too much hurry to get an agent or form large unsustainable bands.
Many folk clubs and festivals are currently organised and staffed by keen but unpaid volunteers? Is this state of affairs sustainable in the long term?
No, is the short answer. That said, there are many many more people making a living in the folk world than there were when I started. Again, it's essential to have a finger in a number of pies. Members of the ABM team are also promoters, musicians and agents in their own right with each activity feeding the others. As volunteers from the earlier days of folk clubs become less active their places may be taken by those able to work on a variety of related projects.
It seems to me from what you've said that folk music of some kind takes up an awful lot of your time. What do you do when you're not thinking about or working on folk matters? How do you relax?
I don't work anything like the hours that I used to, partly because I can't, but largely because I have a great team at ABM. It's always been hard to tell the difference between working and having a nice time as I'd still be going to events and sessions if I was no longer actively involved. Folk music was a passion that became a job so much of the time it doesn't seem like working. I consider myself very lucky to have spent the last thirty years being able to make a living within the folk world.
Outside music, I go bird watching, enjoy cooking and am still a season ticket holder at The Arsenal, but I wouldn't call that bit relaxing. I'm a terrible watcher.