Written by Steve Evans

Steve Evans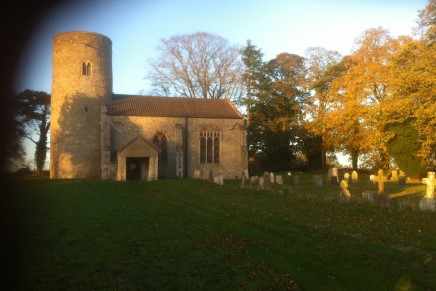 In our last issue we had intended to award our annual My Lady of Autumn prize for the first person (apart from serial offenders) to break cover with a rendering of this Dave Webber song. Surprisingly, but fittingly since she is the best singer of this song around here, June Thaine claimed the prize. In her defence for singing it in late August she explained it had been a request. The Church? All Saints Runhall in late autumn sunshine.
Boxing Day always means a Flying Folk and this year saw Geoffreys gang at Salhouse Lodge. A well attended event with plenty of rousing contributions The buffet provided by the pub was superb
Meanwhile down in Suffolk on St. Stephen's day Old Glory Mollymen were the singing afterwards. Good to see DarshamJack in action and all the other old stagers together with a few more recent additions (step forward Eammon Andrews ) as some knees and hips give out. Plenty of females in the audience appeared to have received the attentions of the sooty faced dancers.
This rather murky picture shows Brian Cohen and the Landlord Terry Davey in the bar at the Blaxhall Ship during one of their weekly Mondays afternoon sessions. Terry is a a genial host and no mean performer with his battered Hohner pokerwork. Brian generally organizes the singers and unusually there is often a preponderance of female contributors Good sandwiches and fabulous chips provided. On the third Wednesday of the month there is a tunes and songs night at the Ship hosted by Richard from Hollesley Bay (wherever that is) which is always well attended and you get a good all round night. This venue is not to be sniffed at Martin Carthy and The Wilson Bros will be
there soon.
As it happens this Wednesday (tonight Feb 6th) we're off to the Angel at Swanton Morley for the monthly ist Weds session there. The timings have changed and from now on it will start at 8p.m. And finish at 10.30 sandwiches and chips splendid here too. Last time out Sue Webber sang a song about English puddings which was a sumptious tour of all those comfort foods that we enjoy. Spotted dick taking pride of place. Not only that it was Chris Gamble's birthday and proving that they can think outside the box in the sticks here is a photo of the birthday cake.
We've also had the pleasure of the company of Rob and Julie King playing the fiddle and piano accordion respectively. Not seen much of them since the Dereham session folded so good to welcome them in.
We can count ourselves fortunate to have been present at Flitcham when Tony Hall was top of the bill at Roger and Patsy Young's monthly hooley at the social club (formally the local pub but reopened by the Queen when she dropped by for a pint) Not many clubs can claim that!!!!!! The support acts were very good but the star was in sparkling form with his tunes and songs culled from a lifetime of experience. The reminisences and stories some of them from Anglo-Saxon times had us all laughing and appreciating in equal measure.
If you were not one of the fortunate few then you can still catch Tony and his gang at the Reindeer, Dereham Road, Norwich on a Wednesday.Although I cannot promise you such an attraction this month the next edition of this monthly treat is on Sat Feb. 9th. Get in touch with Roger at This email address is being protected from spambots. You need JavaScript enabled to view it. to secure your seat.
I am reliably informed that Roger hopes to procure the services of Kevin Green and John Mathews in the near future.
Talking of Kevin he was at Norwich folk Club last Friday accupying two 20 minute slots. What a pleasure it was to hear him with a range of songs accompanying himself on his guitar. Although he had brought along a back-up even his new guitar strings didn't trip him up. Some poppy numbers, the odd Dylan and a song from his beloved Harvey Andrews. It was a privilege to be in the same room.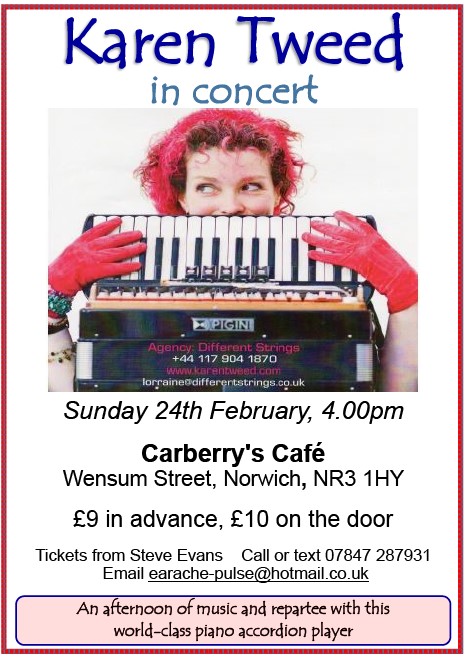 An Afternoon Concert with Karen Tweed Sunday 24th February
Those who came to Karen's concert last year at Carberry's were treated to a wonderful evening of playing and repartee. If you would like a repeat or wished you hadn't missed out last time now is your chance. Karen will be playing at Carberry's Wensum Street Norwich at 4.p.m. On Sunday 24th February. Those who came last time had a real treat. Tickets are available in advance for £9 or £10 on the door. The cafe will be open for coffee and tea, drinks and cake. If you want
something stronger you will need to provide you own. It is a cafe setting so there will be tables and chairs rather than a formal setting.
Enquiries and bookings can be made to Steve Evans 07847287931 (text is good) or direct to Carberry's or of course to Karen herself through her website.
If you cannot get to see us directly an advance booking will be charged at £9