Haddenham Arts centre, 20 High St, Haddenham, Ely CB6 3XA

September 17-18, 2022
When Singer-songwriter Jeremy Harmer got a message from a session organiser that the session was 'Cancelled' because of the coming Lockdown he sat at the kitchen table feeling life was SO UNFAIR, but then, after a time he messaged the organiser back and suggested that they could try and have a music session on Zoom - and Lockdown Folk was born.
To their surprise (as other Zoom organisers also discovered) once all the 'settings' issues were resolved for the people involved, Zoom proved a much more forgiving and inspiring 'venue' for sharing what players and singers do than originally envisaged.
Lockdown Folk (online) grew. Singers and players from all over the UK, from many parts of the USA – Alaska, to Califonia, Missouri, Oregon and elsewhere -started arriving. They came, too, from Germany, Switzerland, Italy and well, anywhere. All dedicated to playing, singing and listening, listening to music at the very highest level. True, they couldn't sing and play together (although one Lockdown Folker managed to, somehow) but everyone got to hear (and play to) people they might never have met otherwise. Online paradise.
Last year the first ever 'Lockdown Folk Live' event was held with people flying in from all over the place and traveling from Wales, Scotland and all over the UK. It was a uniquely emotional two days where people got to meet good online friends face to face for the first time.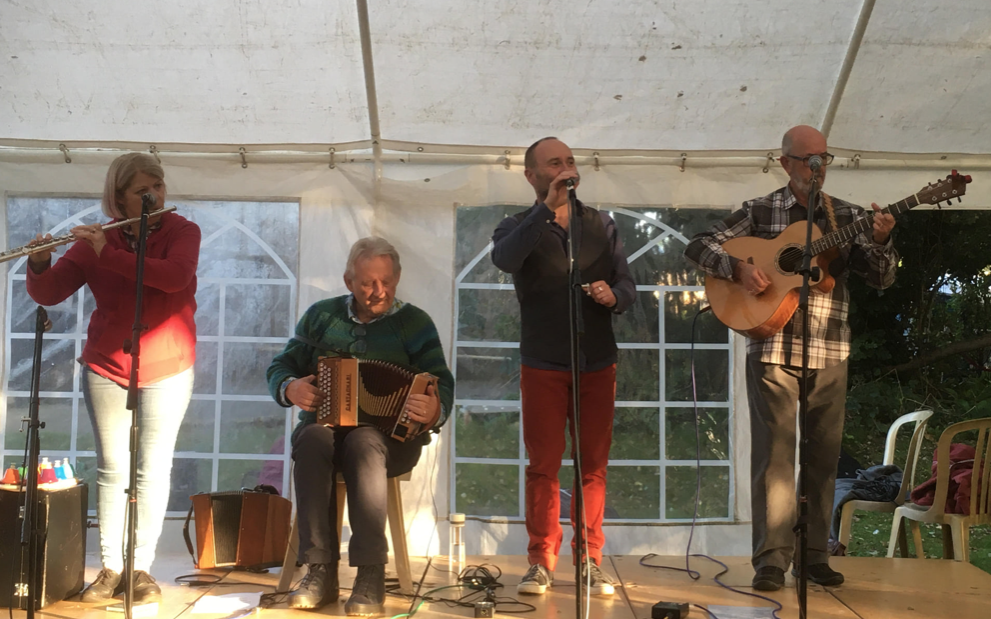 Bof! at Lockdown Live 2021
Now, 'Lockdown Folk Live 2' is here in a beautiful fen setting with main stage outside (covered of course) and inside spaces for other parts of the programme.
Small but perfectly formed LFL2 has a line-up of incredible performers from The Boxwood Chessmen to Bof!, From Junkyard Dawg to 3Folk and Idle Kelpies, and with inspiring singers such as Pauline Vallance (from Scotland), Dawn Berg (from Anchorage), Kelly and Woolley, Clark and Johnson, An Croenen and Andy Wall. There will also be a full programme of sessions, singarounds and workshops.
Lots of food and drink available on site.
Tickets on the door or at www.otherloves.co.uk/lockdown-folk-2
Telephone enquiries: 07809566541