The Lowestoft Longshoremen were formed about 10 years ago when a group of like-minded individuals joined together, once a week, to indulge in their passion for 'songs of the sea'.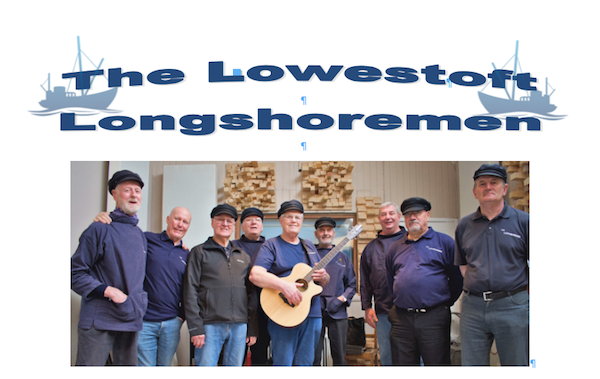 The aim of the group, at that time, was to enjoy each other's company and make occasional performances at local public houses.
As the years rolled by, members came and went and they now have only 2 of the original group, one of whom left for some years, before recently returning to the fold.
The last 3 years have seen the group mature into an ensemble, who still meet weekly to enjoy each other's company and practise 'songs of the sea' but now perform at numerous local venues, to entertain and share their passion for the genre: 2018 saw The Lowestoft Longshoremen make appearances at over 50 locations.
The Lowestoft Longshoremen, remain a Lowestoft-based group who are happy to give up their time to support local charities and other events.
Much of their repertoire will be familiar to audiences, who frequently join in with the words and actions, as they sing about hauling ropes, climbing rigging and other seafaring activities.
To enquire about booking the group for a performance, contact:
Peter Bullard:   Tel: 07531 150141        Email: This email address is being protected from spambots. You need JavaScript enabled to view it.       or
Ron Benns:       Tel: 01502580478        Email: This email address is being protected from spambots. You need JavaScript enabled to view it.