Written by Simon Haines

Simon Haines
Having seen John Tams playing the melodeon in the Albion Dance Band in 1976, I decided that was the instrument for me. But where to buy one? At that time, Hobgoblin was a very small business selling second-hand concertinas from a garden-shed sized building somewhere in rural Sussex. I eventually tracked a one-row Hohner pokerwork instrument in C to a shop in Streatham, South London. I had to stop smoking to afford to pay the £30 they were asking for it! It wasn't long before I progressed to a two-row G/D Hohner pokerwork instrument.
That first year, I learned all the melodeon tunes on The Albion Dance Band's Prospect Before Us" and Ashley's Hutchings' Son of Morris On. My oldest son – now 44 – still can't get these tunes out of his head. Soon after this I bought The Old Swan Band's first album, No Reels, with melodeon player Rod Stradling and I learnt most of the tunes on that. The band's label, Free Reed, then proceeded to bring out more great melodeon and concertina records, including Tony Hall's wonderful Fieldvole Music. What a revelation that was!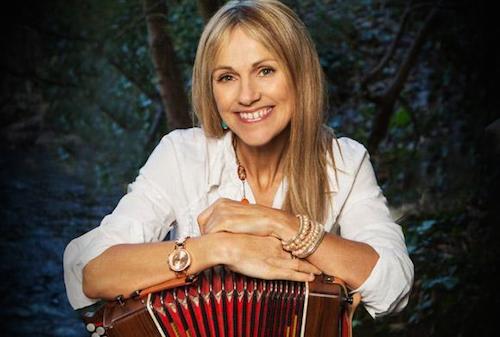 From here I bought the Topic album English Country Music from East Anglia and became familiar with the playing of Oscar Woods and Percy Brown. A whole new world was opening up. After a year of playing to myself in the kitchen, I decided it was time to get out and play live. At a Tony Hall performance at Colchester Folk Club, I met Phil Manchester, also a melodeon player who was preparing to put on Captain Swing, a show that in those days they called a "folk opera". He asked if I'd like to play in the band so that he could drop the melodeon and concentrate on the fiddle. Without knowing what their music was like, I said Yes and turned up at a rehearsal, much to the rest of the band's surprise, a couple of weeks later. Another revelation! The music, much of which had been composed by Phil Manchester, sounded like a combination of all the music I'd been listening to; the 10-piece band sounded like a combination of The Albion Dance Band and The Old Swan Band. We performed Captain Swing at Colchester Folk Club, a theatre in Ipswich and at Norwich Folk Festival – and the band Poor Man's Burden appeared on the front cover of the magazine Folk Review. Those were the days! When the show was over some of the band members went on to form The Hooligan Band which morphed into Bass Instincts and eventually after many changes of personnel, The Hosepipe Band.
The Irish way
Around the same time as my musical tastes were developing, there was a parallel craze for Irish music. The Bothy Band, Planxty and The Chieftains had massive followings among the twenty- and thirty-somethings. I'd heard a bit of their music, but found it difficult to listen to; the tunes, especially the reels, seemed too fast and "difficult". It was no accident that The Old Swan Band's album was called No Reels. Looking back, I think my problem was that I couldn't play these tunes on my G/D melodeon and none of these iconic Irish bands even had a melodeon in their line-up; I had nothing to imitate.
Then came another discovery: on a trip to London to look for interesting folk records in Collets bookshop – pre-Amazon days!– a came across a fascinating album by a solo Irish melodeon player called Jackie Daly. It was called Music From Sliabh Luachra. Here was an Irishman playing tunes some of which I could actually play. I also discovered that although Jackie's instrument looked more or less like mine it was called a "button accordeon".
 
Johnny Ringo MacDonagh and Jackie Daly
In Ireland a melodeon is a one-row box. From that point onwards there was no stopping me. I discovered that Jackie Daly was one of the musicians who played the soundtrack to the TV series The Irish RM. I never watched the programmes but I did buy the cassette. In addition to Jackie Daly, the musicians included fiddle player Frankie Gavin and his brother Sean Gavin, also on accordeon, Declan Masterton on uillean pipes but also Howard Evans, Andy Findon and Roger Williams, who were effectively the brass section of Home Service, a bad which had evolved from The Albion Band, and rather surprisingly John Kirkpatrick. What an amazing line up! Looking back it wasn't that amazing – the mix of Irish and English musicians reflected the Irish/English theme of the TV series and the theme tune, Haste to the Wedding, reflected the same close connection between the two nations. Surely this was an English tune, after all it was played by the great concertina player William Kimber.
More revelations
Soon after this, I discovered that the combination of accordion (Jackie Daly) and fiddle (Frankie Gavin) was the melodic powerhouse of a great Irish band I have followed ever since: De Danann. The concert they played at Colchester Arts Centre in 1983 was another revelation. I was a little disappointed to find that Jackie Daly had moved on but been replaced by someone called Martin O'Connor. I wasn't disappointed for long Martin's playing and the band's music was magic. On that night they had two great singers: Mary Black and Dolores Keane.
 
Frankie Gavin and Martin O'Connor
Jackie Daly's tunes were manageable for me because the music of the Sliabh Luachra area of Kerry includes lots of polkas and not too many reels. However Martin O'Connor played what I would describe as "less English" tunes – ones that were much more difficult for me to play. It was at this stage that I accepted that I'd have to settle for being fan rather than a player of the Irish accordion music. From then on I followed the band De Danann avidly although they came to the UK quite rarely, finding a warmer welcome and more lucrative work in America and the rest of the world. One of the highlights of the time Martin O'Connor played with the band was their rendition of Handel's Arrival of the Queen of Sheba (in Galway). How anyone could play a tune like that at that speed I'll never know, but all the band's accordeon players since have managed it.



Arrival of the Queen of Sheba in Galway - De Dannan with Barry Brady on box
After Martin O'Connor left the band, De Dannan had a succession of equally brilliant box players, notably Aidan Coffey, Dereck Hickey and most recent Barry Brady, who plays refurbished 1920s Paolo Soprani instruments.
Other button accordion players
But there are countless other brilliant Irish box players worth looking up and listening to. here are just a few: Joe Burke, Tony MacMahon, Dermot Byrne, who played for many years with Altan and of course Sharon Shannon. There's also the recently deceased much respected Finbar Dwyer, Sliabh Luachra giant Johnny O'Leary, and Irish-American speed wizard Joe Derrane. There are also loads of young players: Conor Moriarty, Conor Connoly, Daren Breslin, Bryan O'Leary, and David Munnelly to name but a few.




The band Morga with David Munnelly on accordion



The young Joe Derrane
If you play a G/D box, you will find you can play some Irish tunes reasonably easily, especially if you can play across the rows, but others will be a real challenge or impossible, especially the fast jigs and reels. To some extent, you can forget about using the left hand buttons altogether which is a relief, although some Irish players manage to play the occasional left hand chord which gives the same sort of effect as when a uillean piper play the regulators.



A young Dermot Byrne, playing Tico Tico
Happy listening and possibly playing.
Notes

Irish two-row button accordions are tuned differently from the good old English G/D or G/C. They are in B/C or C♯/D, meaning that Irish players can play in more or less any key; the only downside, as far as I can work out, is that the left hand buttons on most standard instruments don't allow the same "automatic" accompaniment as the basses and chords on a standard G/D or C/G boxes. There's an interesting article about the history of Irish tunings on Concertina.net: http://www.concertina.net/forums/index.php?showtopic=2347&mode=threaded&pid=22950
Traditionally, Irish players used to favour Paolo Soprani instruments and many still do, though in recent years they have branched and gone for Castagnari, Salterelle or Bertrand Gaillard instruments. There are now also Irish makers, Cairdin, Kincora and Paddy Clancy.
There's an interesting Facebook site worth joining if you're sufficiently interested: Traditional Irish Button Accordeon