You are here:  

TERENCE BLACKER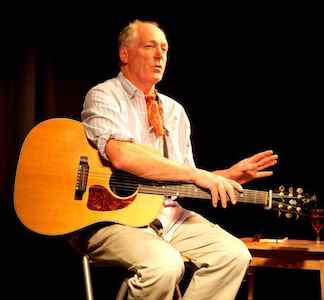 WHAT I DO
I write and sing songs about the way we live now, and play them on the guitar or ukulele. I have performed shows of songs and stories at venues from the Hay Festival to the Edinburgh Fringe, from from folk clubs to London's Crazy Coqs cabaret bar.
I have also written, presented and played in Taboo-Be-Do!, a two-part BBC Radio 4 documentary about politically incorrect songs, and once gave a performance of Noel Coward's 'There Are Bad Times Just Around the Corner' for The World At One.
I have released two CDs Lovely Little Games (2012) and Sometimes You Face Don't Fit (2015).
'Blacker's songs confirm him as a man for tricksy rhymes and a pleasingly mournful middle-aged scepticism (think Jacques Brel meets Tom Lehrer).' Libby Purves, The Times

'Had the room in stitches…The secret love child of Richard Digance and Victoria Wood, Blacker seems happiest when puncturing pomposity and self-delusion.' Dylan Hearn, Suffolk Scribblings
'Illuminating and enjoyable. There's a pleasing bite behind the melodies.'
Alice Jones, Independent

I CAN OFFER
Performances (30-90 minutes) for concert venues, folk clubs and festivals
Literary festivals – I am also a professional author
House concerts and private functions.
SAMPLES OF MY MUSIC
Young Girl With a Ukulele
I'd Rather Be French
Sad Old Bastards With Guitars
CONTACT
Email - This email address is being protected from spambots. You need JavaScript enabled to view it.
Telephone - 01379 742 772
Website - www.terenceblacker.com