You are here:  

PROPER ENGLISH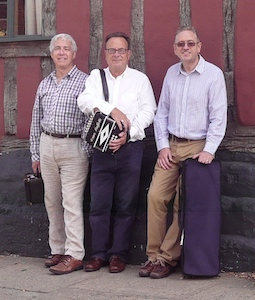 WHAT WE DO
We are a singing trio and barn dance band performing traditional English songs and tunes in a lively and entertaining style.
We have extensive collective experience in a number of bands; notably Tickler's Jam, Katie's Quartet, Old Hat, The Posh Band and The English String Band, including festivals, recording, TV and community work.
LINE-UP
Song spots - Fiddle, concertinas, melodeon, cello, guitar, banjo and vocal harmony.
Band - Fiddle, melodeon and piano, with caller as required.
WE CAN OFFER
Barn Dances or Ceilidhs with our own caller or yours.
Concert spots at festivals, folk clubs and local community events – an entertaining and varied mix of traditional and music hall songs interspersed with dry humour and lively dance tunes.
Leading sessions and running related festival workshops.
MUSIC SAMPLES
Lincolnshire Wedding Song
Regs
CONTACT
Phone 07925 141424
Email This email address is being protected from spambots. You need JavaScript enabled to view it.
Rob Neal, 15, Chandos Drive, Martlesham, Suffolk, IP12 4ST