You are here:  

MEGAN WISDOM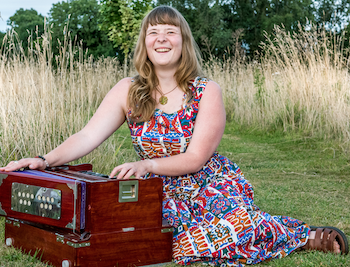 WHAT I DO
Born and raised in Suffolk and currently based in Newcastle, I am a solo singer of traditional and contemporary folk songs.
I have performed in a variety of folk clubs and festivals, including Sidmouth Folk Festival, Folk East Festival, Hadleigh Folk and Acoustic Music Nights, Colchester Arts Centre and Shannonside Winter Music Festival in Ireland.
I won the Percy Webb Cup in 2015 and 2019 and was a finalist in the 2017 and 2019 New Roots competition in St Albans. My debut EP, Tracery, is available through my website.
I have been around folk music all my life, singing and playing penny whistle in many a Suffolk folk session, and have heard the stories of a nation told through its traditional songs and tunes. My aim is always to bring these stories to life through my singing, to give these voices from the past another chance to be heard, and occasionally to add a few stories of my own.
I am currently working with the East Anglian Traditional Music Trust to build up an archive of field recordings featuring singers from East Anglia. The archive is free to access and aims to build up a picture of the current East Anglian follow scene. It can be found at https://eatmt.wordpress.com/the-music-box-archive/.

I CAN OFFER
Sets of solo singing, on my own or as part of a concert.
She Lit the Fire (with piano accompaniment by Cara Bruns)
Contact This email address is being protected from spambots. You need JavaScript enabled to view it.
Website: www.meganwisdom.co.uk