You are here:  

A Weekend of Women and Wonder
by Holly D Johnston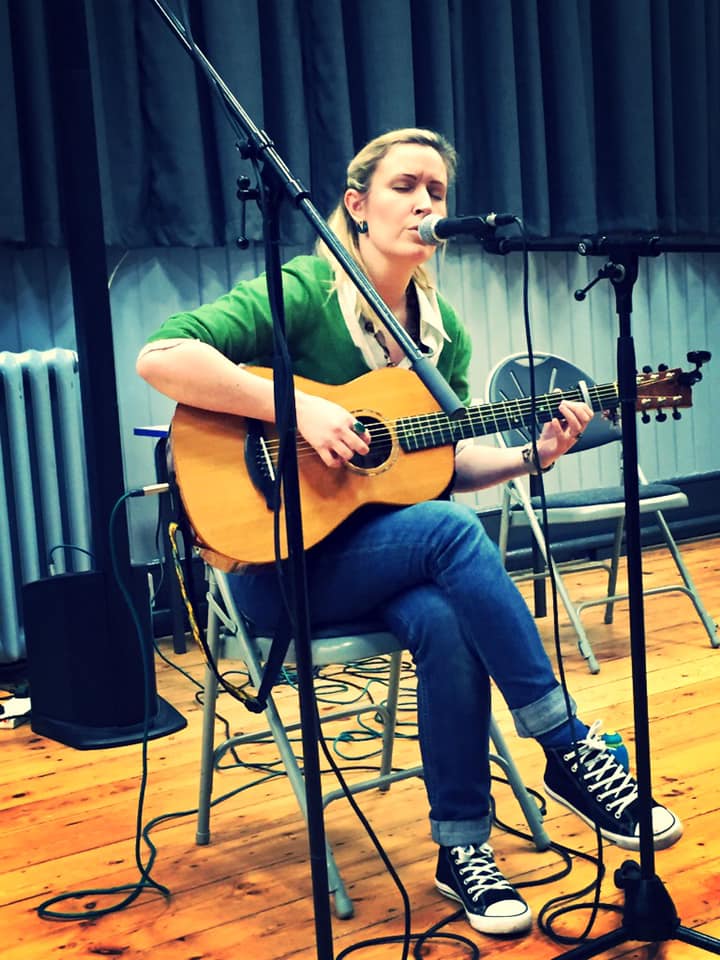 I am always surprised when people talk about Suffolk as a sleepy quiet place.  My own experience is that on any given night I have to choose between events to go to and wonderful experiences to have.  I personally lean towards folk and acoustic music, but I try as many different genres as I can and have noticed that when I chat to people at folk clubs, they are just as open.  This past weekend I have loved the variety on offer and have been to two events I feel inspired to write about.
Friday 8th March 2019 marked International Women's Day and there were a number of events going on around Suffolk to mark the occasion.  I took myself off to the John Peel Centre in Stowmarket where the Soapbox was hosting an evening of performance, poetry and debate.
The evening was ably hosted by Suki Silvertongue, a teller of alternative tales in rhythmic verse who turns stories on their head so that we notice the strange and question the assumed within them.  Suki brought on giggles and belly laughs and had written her own poem for the event which highlighted how busy our lives are and the need to stop and take stock of both how far we've come as a society and how far we yet have to travel together.  She has published her poem on her facebook page if you would like to read it.
With Suki at the helm we were introduced firstly to two young and rising singers who at the ages of 14 and 13 respectively, wowed the audience with their depth of vocal talent and their confidence to stand up and be counted.  These were Sienna Potter and Roma, who are already gigging across the county and whom you may have already seen taking the stage.  This led us onto a streamed film about women in the music industry and the barriers faced sometimes knowingly, and at other times through repeated banging up against them until we realise they are there.  This was a film created by Freya Roy who is a jazz musician and producer originally from Norfolk.  It featured interviews with both men and women within the music industry and emphasised the perspectives held of women and the assumptions about who is best placed and equipped to create works and how this can be stretched and challenged as we go forward. 
The panel discussion that followed featured Amy Wragg; Kim Trotter; Angelle Joseph; Remi Morrison; Becky Marshall-Potter, and Nichola Adams.  I'll let you research the different creative fields these inspiring women occupy – the leaflet for the event is a good place to start if you get stuck, but their experience is vast and impressive.   This debate was mainly a collective sharing of stories from these women's careers where they have needed to go above and beyond their male counterparts in order to be heard and recognised for their creative endeavours.  Scenarios ranging from clients walking straight past them to shake the hand of their male assistant, to having to speak twice as loud and multiple times in order to be heard.  Before you get the impression that this was a male bashing event; the room was also filled with supportive male ambassadors for the women's cause and stories of men championing and stepping aside for the women they fully accept as equally capable and creative.  This was fully shown on the dance floor when we claimed the right to boogie to the toe tapping grooves of Motherfvnker and Sally Army, and sung our socks off to Ells Bells on the ukes.
My favourite part of the evening was hearing poetry from Hazel Thomas; a woman of British-Ethiopian background with poems that cut through the nonsense and speak directly to the everyday experiences we have as individuals.  Hazel was vulnerable and specific in her words in a way that mirrored the art of a good songwriter.  By speaking her own truth, genuinely and deeply, Hazel connected and found a collective truth in the room that moved me and left me wanting more.  I was pleased to hear she is working on her second book of poems: 'Warrior Woman'.
I went home Friday night inspired by the talent and creativity in the world and proud of 'sleepy Suffolk' for the talent on show.  I was then blown away again on Sunday evening to again experience the talent of a female performer in her element.  Sunday nights have recently been adorned by weekly live performance, interview and podcast hosted by Keith Sadler at Arlingtons in Ipswich.  This was the first time I have attended and I loved it.  On 10th March Joy Ellis, originally from Ipswich now living and performing fusion jazz in London played two full sets of her original jazz compositions and was interviewed by Keith about her background, inspirations and experiences of both life and music.  This was original music at its best and in a venue so rich with history and inspiration that it seemed to resonate beautifully with my weekend, as I shall explain.
When I quietly mentioned that I wanted to write something about the event I was amazed to hear that Arlingtons, which has had various functions going back to its original purpose as a museum, has its own ties with women's Suffrage.  In 1911, a number of women across the country boycotted the census by staying out of their homes occupying buildings not included in the registry.  In Ipswich a number of women holed up in the building now known as Arlingtons, and a number of men guarded the door so that they could not be removed by police.  Thus on the night of the census in 1911 many forms read 'No persons here only women!' or 'I don't count so I won't be counted!', and others truthfully reported that no women were at this address on the night in question.
I already knew that this boycott had taken place and was aware of Emily Davison hiding in a broom cupboard in the Houses of Parliament on this night. I wasn't aware however, of the local protest and I was honoured to be in the building that local women used, as their political host and ally.  I was awed by the intimate closeness of what I had, rather detachedly, looked at as a national and historical issue.  It refreshed and reminded me of the 'Women's Voices Women's Votes' events that have been and are being held locally.  Particularly of the play written and performed by Martha Loader of Tusk Theatre in which her main character became aware of the local women of suffrage, who were real and human, rather than pictures and words in print.
So now it's Monday and I remain moved and inspired to write.  'Sleepy Suffolk' has such rich creative events to offer and is steeped in a tradition, yes of folk music (which I love) but also in the stories of its' people and history upon which we stand and build each day.  When I go out to hear other people's music and words, I am never quite prepared for the impact that simply listening can have on my own perspective and the way I experience the world.  To the audiences I join, 'thank you'. I love that we are in a room open to new sounds and thoughts. To those that want to venture out more – there is so much on offer just waiting for your place on that seat, or even on the dance floor.  'Sleepy Suffolk' is not so sleepy, suffrage is not so distant, and music is as embracing as your comfort zone will allow.  See you at an event very soon!
Holly is a Suffolk singer-songwriter who has recently released a new album. Stretching the Sky  Holly's website is a mine of information: http://www.hollydjohnston.co.uk
Stretching the Sky will be reviewed in Mardles review section shortly.