You are here:  

Impressions of Folk East 2019
The following are impressions of this year's Folk East Festival.
Walking onto the FolkEast site from the 'Morristown' campsite was a pleasure and source of excitement and anticipation to me. Every year, as it's character builds, the site is becoming a charming and beguiling mixture of old and new. Familiar stalls in different places, new stalls and tents to explore and stunning use of sculpture, colour, flags and lights to create an atmosphere that is deeply redolent of the Albion Fairs, but in a more businesslike way. At night it looked magical and I got drawn for some time into into the eerie but very effective light display in the trees around the Soapbox Stage.
So the setting was perfect, there was a good mix of acts to catch up with once the Morris day was over and I happily roamed between the Moot Hall, Dance Tent, Sunset Stage and the Soapbox events. Sometimes I was on my own, other times not, it didn't really seem to matter.
Blair Dunlop, Calan Band, the Pancakes, John Spiers, and various poets were all highlights for me, but there were many other moments too when I just stopped and enjoyed a tune or a song somewhere.
A lovely weekend despite odd outbreaks of weather, it didn't spoil anything for me and it is good to know that we now have 2020 to look forward to. [J.P.]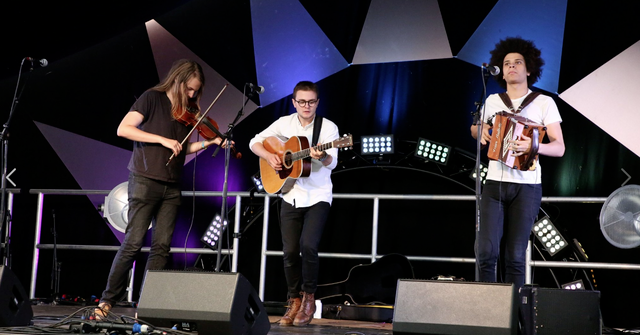 Granny's Attic
Fabulous FolkEast 2019
Arriving at the FolkEast site at Little Glemham each year fills me with anticipation. There is the feeling of a pop-up home from home – like a wonderfully eccentric, Suffolk Brigadoon filled with familiar faces and the promise of great things to come.
This year, as ever, I was not disappointed. All of my regular favourites were there: the colourful, energetic Morris; artists and craftspeople in the extensive Art Arcade; local history; Instrumental area… A noticeably more varied programme of music on all the stages gave plenty to listen to and inspire, each with its own personality and atmosphere – the intimate club feel of the Broad Roots Stage was a particular highlight for me this time – great performances from local and national performers and up-and-coming young talent.
Determined to try something different and find out more about the craft, I made it to a storytelling workshop in the Village Hall – fascinating stuff! Joining the Harbour Inn Crowd in the Cobbold Arms on Saturday afternoon for our usual session of tunes, rousing choruses and step-dancing was just one of several opportunities to participate with fiddle and song; impromptu sessions in the Cobbold Arms, the Hop Inn and the Instrumental area formed my special, take-home memories this year – playing tunes with friends new and old leaving me with that gloriously warm feeling that shared music-making brings. Roll on next year! [TW]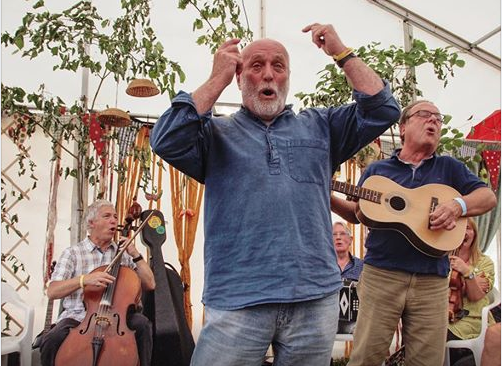 Harbour Lights
FolkEast is so aptly named. There, you find yourself nestled within the acres of dreamy Suffolk countryside that make up the Glemham Estate, so characteristic of the East of England. Then there's the Folk: the organisers, volunteers, performers, craftspeople and attendees. They are what makes the festival so special.I had a lot to do at FolkEast this year, and often seemed to be travelling, with varying degrees of haste, from one event to another. In this way, I was able to soak up the effervescent atmosphere of the festival site – a hive of vibrant creativity with an overarching spirit of community and conviviality. In my busyness, I had the opportunity to experience many different aspects of the festival.
The Sanctuary Space, where I performed a solo set, is a true gem set amongst the trees on the edge of the campsite, a small haven in which to catch your breath and listen to Xenia Horne's mellifluous harp. Some impromptu sessions gave me the chance to play with many accomplished musicians, as did a magical workshop with the Finn Collinson Band. At these times, as well as when dancing with Pretty Grim Border Morris, I felt a strong sense of commonality and fellowship, both with friends, and with those I'd never met.
All in all, a chance to see some fine Folk – and the music was good, too. [MW]


Treacle Miners
As usual, the getting on site was a piece of cake and, wandering around, the site looked as good & imaginative as ever. There were some great set pieces & The Jackalope was spectacular; picked out in lights. (see Phil for a great pic). The Thursday night bar session was very enjoyable, with no disruption from main stage. Friday was spectacularly wet, which highlights for me the need to replace the Sunset Stage & it's carbuncle of sound engineers desk stuck right in the middle of the viewing area, with a grand marquee.
Karine Polwort & others on the Friday night must have wondered how they could have better, more warmly, filled their time!! Then Saturday, the sun came out, and everything was lovely as was Sharon Shannon! She should have been on after Cara Dillon, and on for longer. It seemed to me like about 50mins. Elsewhere, I loved the sessions & the craik: Melrose Quartet, Tin River and many more. Xim were brilliant with their workshops to create a French dance music spot for Main Stage on Sunday lunchtime. I didn't get to their Bal. Just a final moan: why do they leave a top star like Richard Thompson to play the last spot on Sunday evening, when so many people have gone home for work the next day? [PB]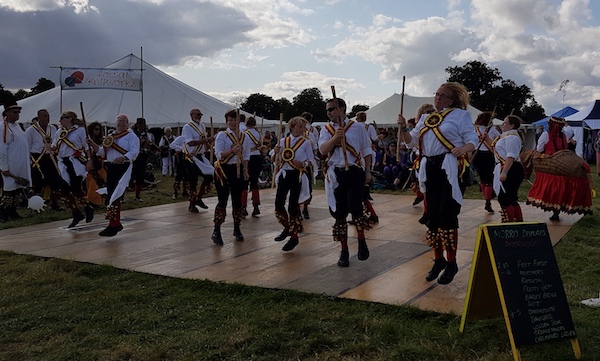 Golden Star Morris

Folk East was wonderful wasn't it? National and International acts were well represented, State Of the Union, Good Lovelies, Pitmen Poets, Granny's Attic, were all excellent. Sharon Shannon, Richard Thompson, legendary. But I'll leave someone else to talk about these!
This is one of the few Festivals I go to as a punter, so my time is my own. There's always a clash of acts, given the number of stages, especially if you take in account what's happening in the Bars; which I do. But on the whole I can give the acts I want to see, a good viewing!
The thing I enjoy about Folk East, more than anything is the local element it seems to have nurtured over the years and, as a singer myself, the opportunity to perform, because of that! Whether it be The Harbour Inn crowd session, lead so well by Derek Simpson, Saturday afternoon, in the main bar, or The Quay Street Whalers, in the smaller bar down the hill. I was pleased to get a chorus song in with both. Local act Tin River, were excellent and Megan Wisdom, outstanding. Yes, there were many acts folkies will have heard of and no doubt for most Festival goers, their decision to do the Festival may be based on that list, but I hope Folk East will continue to support the talent on its' doorstep, as this more than anything else, contributes to the camraderie and fun and enjoyment appreciated by everyone who attends. And ultimately make this Festival unique! [BK]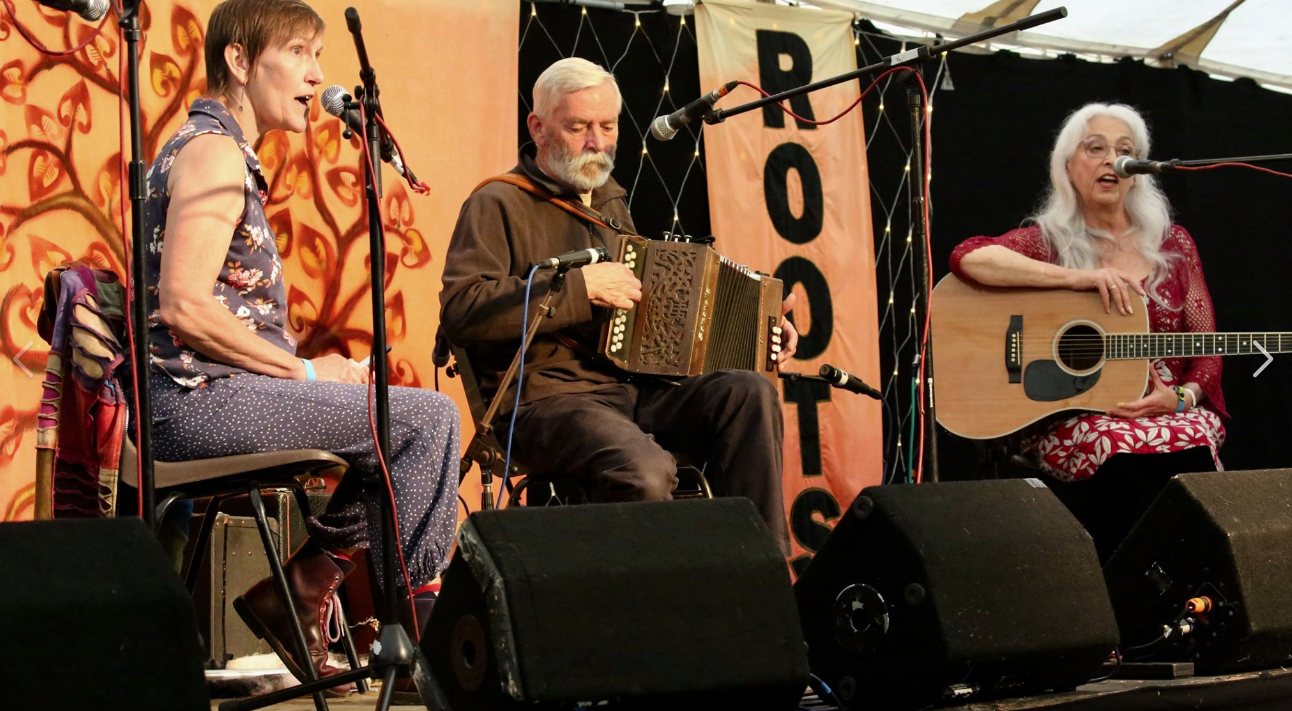 Tin River
We went to Folk East on the Sunday and, as usual, there was a friendly atmosphere and excellent organization. We enjoyed bumping into friends around the site and dropping in to the morris, a ceilidh and some workshops. It is always a challenge to work out the best timetable to take in the acts you want to see and we worked up an appetite for the food on offer, by traversing the site multiple times!
We enjoyed Jez Lowe's northern humour in Moot Hall, the Norfolk Broads in Broad Roots and the lively Sheelanagig on the Sunset stage. Patch & The Giant and Calan in Moot Hall were both good but we were not the only people to find the volume too loud – must remember to take ear protectors next year! [JH]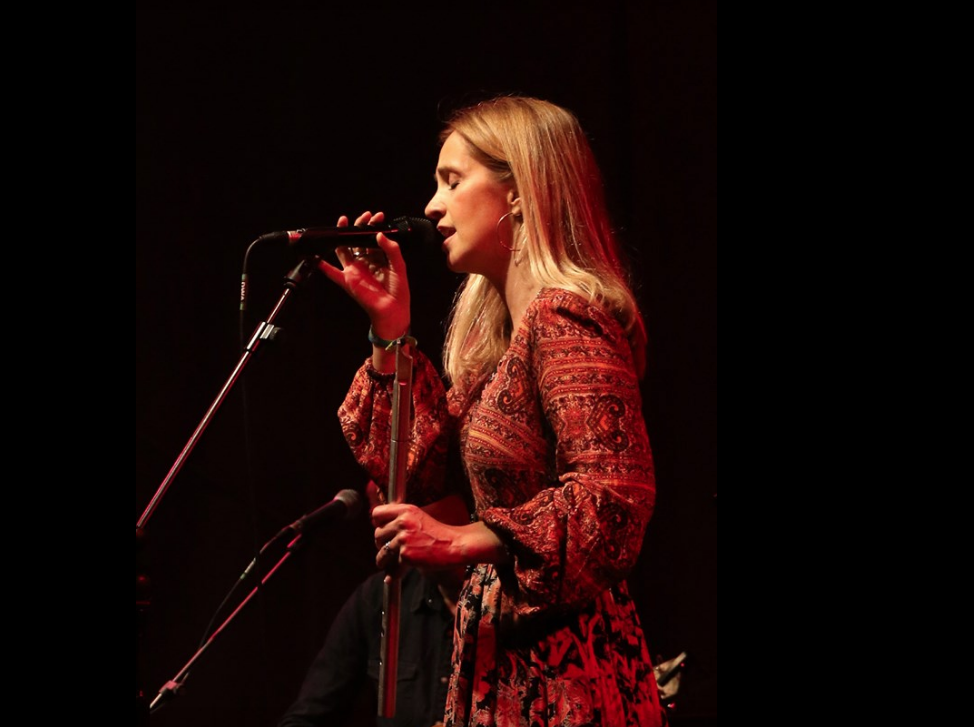 Cara Dillon
This was the 6th FolkEast for me and think it was the best yet. The festival has its own distinctive character now. The site was beautifully prepared, the Soapbox stage area being quite magical at night. There was a great variety of activities from early morning yoga to Georgian singing in the church to instrument workshops (though strangely for a folk festival, no guitar!) to multiple late night singarounds and sessions in the bars. The number and variety of craft stalls of really high quality put the larger Towersey festival to shame, as did the interactive activities provided for young and not so young alike. The main guest list was almost too impressive…I wonder if Saturday really needed John Smith, Sharron Shannon and Cara Dillon on the same night…any of these were headliners in their own right. Richard Thompson played a dream closing set on a barmy Sunday night! The Moot Hall (I prefer this venue for its intimacy and sound system) also hosted an impressive line-up but for me the highlight was Jez Lowe, whose remarkable Sunday solo set got a standing ovation. See you there next year! [PL]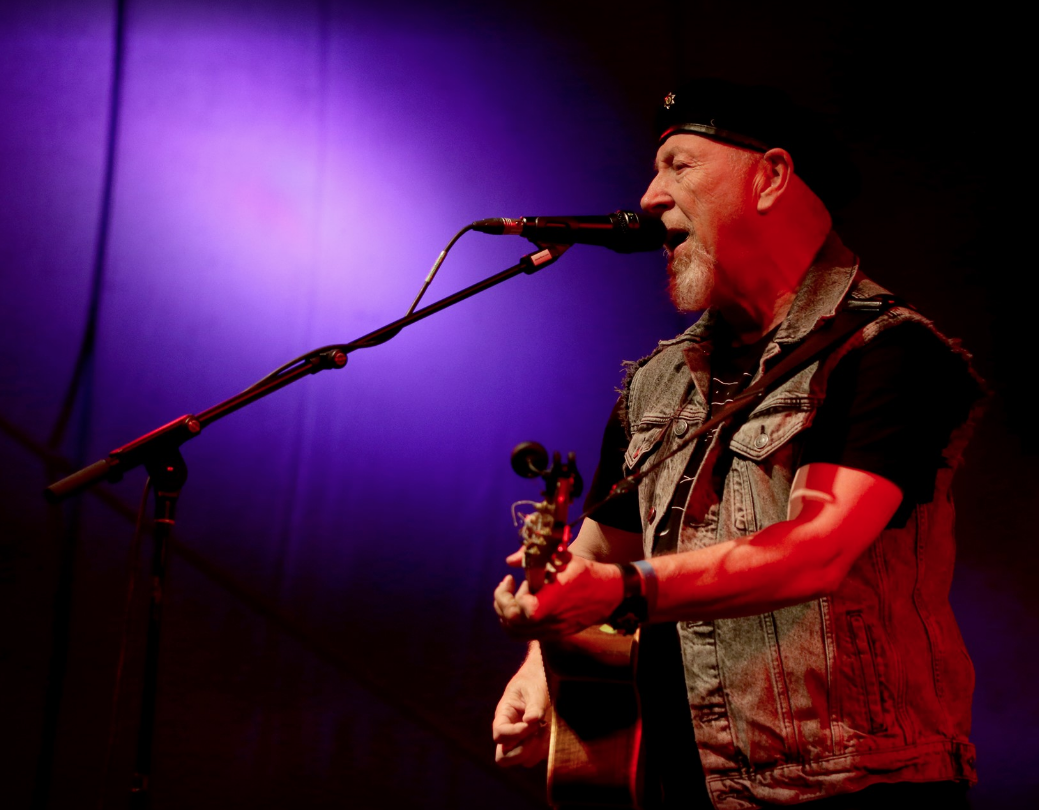 Richard Thompson
Reflections on FolkEast; from Shrewsbury Festival 2019
Dave Evans and Gill Brett have written this very interesting comparison between Shrewsbury Festival and Folk East.