Award winning US Bluegrass band to appear at the Seagull Theatre in Pakefield, Suffolk on Thursday 21st March at 8.00 p.m
The exceptionally talented young band Mile Twelve is fast gaining recognition for outstanding performances in bluegrass and folk circles in the USA.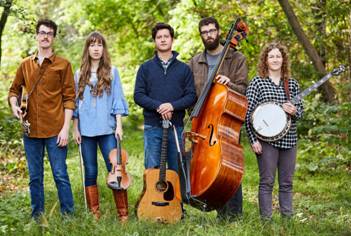 photo by Kelly Davidson
The band are Evan Murphy (guitar/vocals), Catherine "BB" Bowness (banjo/vocals), Nate Sabat (double bass/vocals), Bronwyn Keith‐Hynes (fiddle/vocals) and  David Benedict (mandolin/vocals).Together, they have hit upon a winningly entertaining formula. In October 2017 they released their debut full-length album "Onwards", featuring almost all originals, and drawing on a range of diverse influences.
Their entertaining live material includes some creative covers as well as their own acclaimed bluegrass and folk originals and a sprinkling of traditional songs, all delivered with outstanding musicianship and vocal harmonies.  Mile Twelve has performed extensively throughout the USA, Canada, Ireland, New Zealand and Australia over the past couple of years, and won the 2017 Momentum Award at the IBMA (International Bluegrass Music Association) Awards.
They are currently on tour in the Caribbean before embarking on this spring's tour of the UK (which will be their first time here) and the temperature change may come as rather a shock!
They will be playing at the Seagull Theatre in Pakefield on Thursday 21st March at 8.00 p.m. Tickets are £12 (£11 concessions) and are available in person from the box office, by phone (01502 589726) and online at www.theseagull.co.uk/event/mile-twelve/