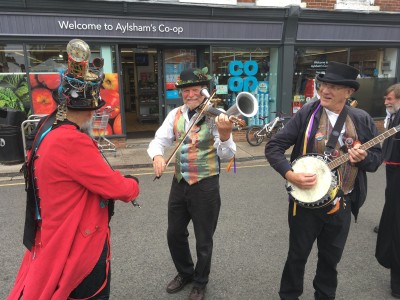 The second Aylsham festival of Dance, Music and Song was held over the weekend of September 7th and 8th and was agreed by all to be a great event.
It began on Friday night with a Folk Club in the town hall hosted by stalwart of the Norfolk Folk scene, Geoff Roberts with his legendary Flying Folk. At one point there were over a hundred people in attendance either there to listen to the superb array of talent that was present or to take part as a performer. With a licenced bar operating a great night was had by all.
Saturday saw a range of different styles of dancing in the Aylsham Market Place from French dancing courtesy of Pied-a-Tere, Egyptian Belly dancing, Balkan Traditional dance, Norfolk & Suffolk Step dancing with traditional music and Morris dancing.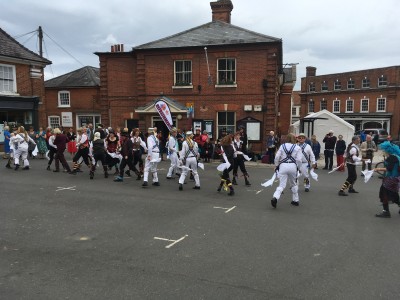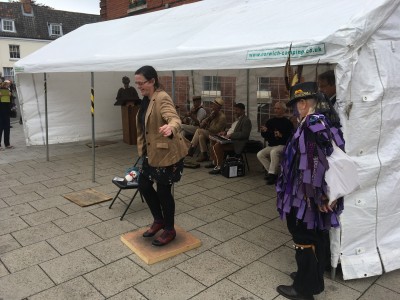 Broadland Ukes put on a concert outside the Town Hall and around the Market Place were various market stalls selling a range of goods and products.
In the Town Hall there were displays of Swing Dance, Irish Set dancing and some African themed entertainment.
The Town Library opened their doors for a ukulele workshop hosted by Broadland Ukes which was well attended and there was a Longsword workshop in the Drill Hall in the early afternoon.
The Bure Valley Railway joined in the Festival by hosting Morris dancers who performed out the front of the railway buildings to greet guests and they had 'Rock the Lobster' hosting an Open Mike in the garden just outside the coffee shop.
There were performers entertaining in The Conservatory (The Browns),  Biddy's Tea Rooms (Partners in Time) and the Unicorn pub (Tony Purdy) followed by a free concert in the Unicorn with Rattlebox, Beeston Bump Bluegrass Band and Five shades of Grey. This was then followed by a free concert in the Drill Hall with  Rattlebox, Beeston Bump Bluegrass Band, Five shades of Grey and Partners in Time.
After a break to catch ones breath and have a meal, the evening kicked off with a concert by local celebrity and raconteur Tony Hall. Tony was up to his usual standard, was very entertaining and everyone thoroughly enjoyed themselves.
The evening finished with a concert by Martin Simpson. He was highly professional but related to the highly receptive audience in a very relaxed and intimate manner. So impressed was he with the concert that he treated the audience to a new song that he had not performed in public before.
Many thanks to Pete Rushmer and Brian Antuar for doing all the groundwork to get the Festival up and running for this year, to the Aylsham Town Council and the Events Committee for their financial support, moral support and for organising volunteers to man the venues and to 'Smudge' Smith and Natasha Carver for all their administrative help and support.
We are planning to hold the Third Aylsham Festival of Dance, Music and Song on the weekend of September 6th and 7th 2019.
If you would like to be involved in some way, as a volunteer, a performer / s, dance group, choir, band, chamber group or what ever, or know of someone who would be interested, please do not hesitate to contact Brian Antuar on 01263 715762 or  This email address is being protected from spambots. You need JavaScript enabled to view it.