You are here:  

21st Century Morris?
Changes to sides listed in Mardles from May 2001 – Aug 2017
As this is the last printed version of Mardles I began wondering whether a "Morris Correspondent" has a future in an on-line listings website and began leafing through back-issues of Mardles and, to my surprise, discovered I had a copy from May 2001.  I wondered how many had survived and were "Alive & Kicking" and how many had been "Lagabagged" and were no longer performing?  What kind of sides had formed in that time and what is the current state of health of the Morris fraternity as we settle in to the 21st century?
A chart of the sides that have performed in the last 16 years in the 4 counties is far too large for the printed version of Mardles but demonstrates one of the advantages of an on-line publication as the tabulated results can be added as an appendix to this version of the article. 
My impression as a result of going to Sheringham, FolkEast, Ely and days of dance around the region over the last 16 years was that Cotswold sides, especially male ones, had given way to a successful take-over by mixed Border sides but, to my surprise, that is not what I found. 
Mardles only shows a snap-shot of performing sides but its list is more current than the Morris Ring website and is the only reference point I could find.  Mardles 2001 had omitted some existing sides.  Those missing include; Mepal Molly, formed in 1977; Maldon Dark Horse Morris (now called Dark Horse Morris) formed in 1995; Gog Magog Molly (1996); Kenninghall Morris (1999) and Soken Molly (2000).  The May 2001 edition also incorrectly listed two Essex sides from Belchamp St Paul; Arum Lords and Ladies & Belchamp Morris Men as Suffolk sides.
Regrettably Mardles still fails to list some existing  sides for example; Norwich Shitwitches as they were known in 2001; now renamed Norwich Kitwitches are not in Mardles; Northstow Mummers, Tap & Sync & Wype Doles are also all believed to be performing but are not currently listed in Mardles.  There is also a new side, Old School Rapper, recently formed in Suffolk and only just listed in Mardles.
So what did I find?  Were my assumptions confirmed?
It was surprising to discover that there are as many new Cotswold sides as there are Border sides but it's not so surprising that almost all new sides are mixed sides; there are no new men-only sides and just one new women's side (Hands Around, based in Thurrock who dance Cotswold).  In total there has been a loss of 15 women's, men's and mixed Cotswold sides.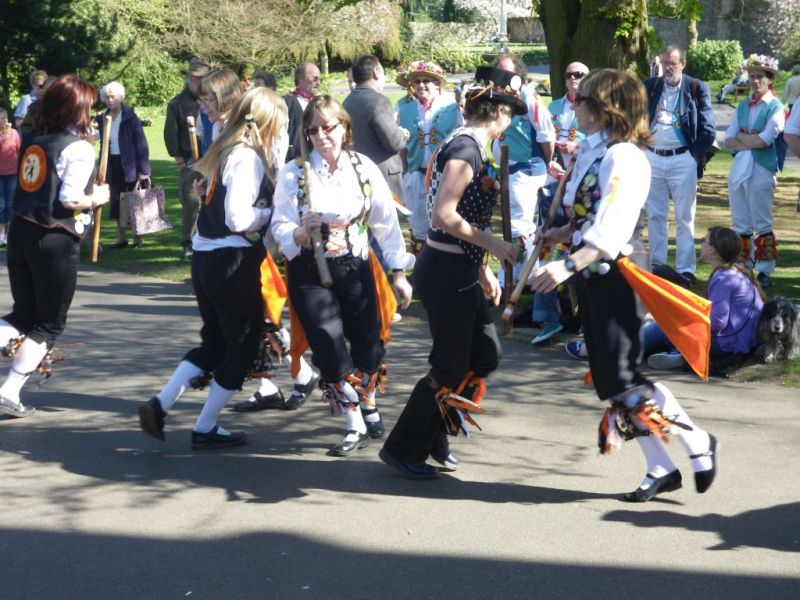 The men's sides that have disappeared include Aldham Morris Men, Harwich MM, Mount Bures MM and Royal Marine (all Essex) and Milton MM from Cambs.  It is also probably safe to assume that Rusty Relics Scythe Dancers from Cambs were a men's side but this may not be the case.  You could also say that Kings Morris Men of Kings Lynn have ceased to be as they now dance as a mixed side calling itself Kings Morris. 
The women's sides no longer performing are from Suffolk; Gyppeswyck Garland, Haverhill Harlots and from Essex; Bullnose Morris (Cotswold & Appalachian) and Mandrake Morris (Northwest & Step Clog) and from Cambs Fen Nightingale (Clog) and Sally B's (Cotswold).
The mixed sides which have died out are more numerous and represent a broader range of dancing styles.  These include from Suffolk; Flying Rapper and Flying Tatters (Border & Molly).  From Norfolk the famous Lobster Potties (Northwest & Sheringham Clog) have gone and also Yare Valley Morris, a mixed Cotswold and Border "University side".  Essex has lost Arum Lords & Ladies (Northwest), Blackwater Morris (Cotswold), Black Boy Rapper and Blue Steel Rapper which perhaps should have been listed as a Suffolk side as Mardles said they practiced in Tattingstone on the Shotley peninsula south of Ipswich.  Cambs has lost Duck Race Morris (Cotswold), Granta Morris (also a university Cotswold side), Mercheford (Cotswold) and Sutton Stomp (Cotswold & Northwest).
Compared with this cull of sides we can celebrate the arrival of lots of new mixed sides including Holt Ridge (Cotswold) which has an overlap with Sheringham Lobster Potties and Golden Star.  Also new in Norfolk are Pedant's Revolt (Border).  Essex has two new sides; Crouch Vale (Northwest), Hawksword (Rapper & Longsword) as well as the new women's side Hands Around.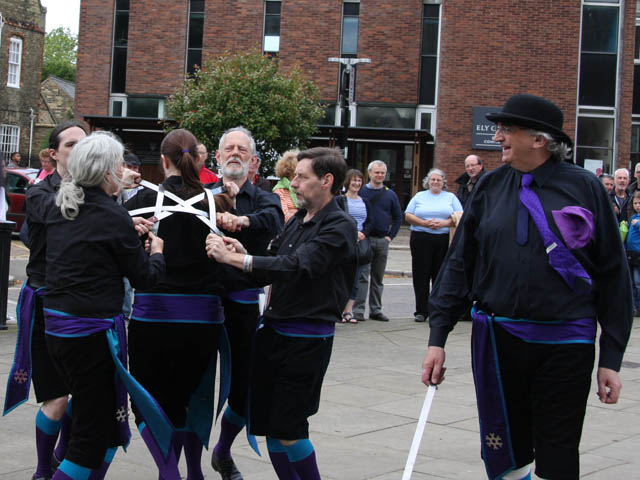 Hawksword dancing at Ely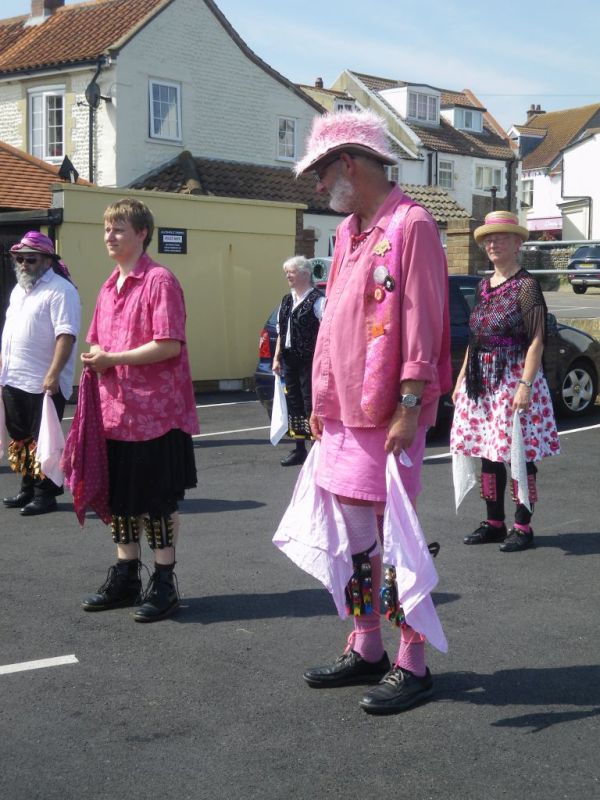 In Cambs there are 3 new sides; Granta Blue Morris founded in 2010 described as "young mixed morris" which are nothing to do with the university; Rockingham Rapper (2004) are getting lots of gigs at festivals and winning prizes for their performances too. The newest side in Cambs is Sutton Masque (2014) who perform exuberant and colourful Border. Fenstanton in Cambs is also the birthplace of Bunnies from Hell who dance "anarchic Cotswold" and describe themselves as "wandering" with members from across the UK. They have never been listed in Mardles, perhaps because no county wants to own them but they were founded in, Cambs which is good enough for me.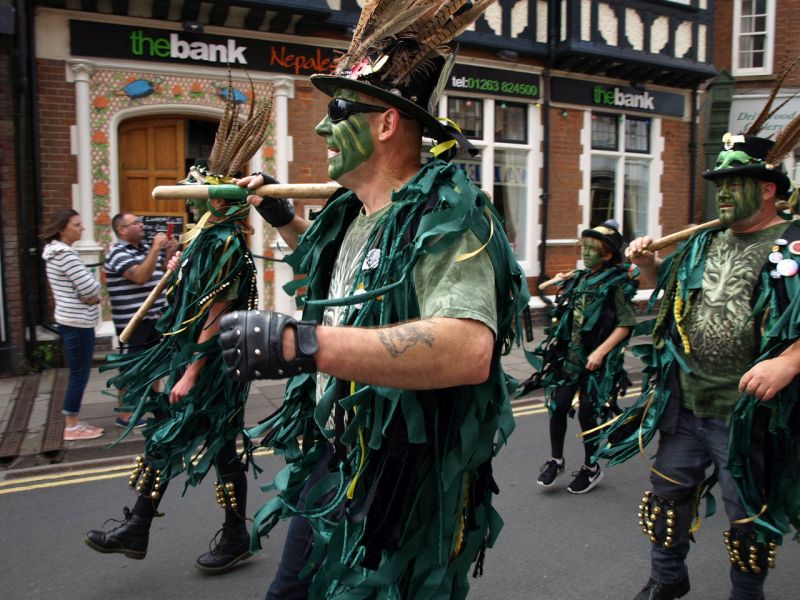 Sutton Masque on the rampage in Sheringham 2017
Suffolk has a new Cotswold side (Rumburgh 2008), and Ox Blood Molly (2005) as well as three of the newest sides in the region; Old School Rapper (2015?), Slack Ma Girdle ("Steam Punk" Border 2016) and Treacle Miners (Border) whose first public performance was this year at FolkEast.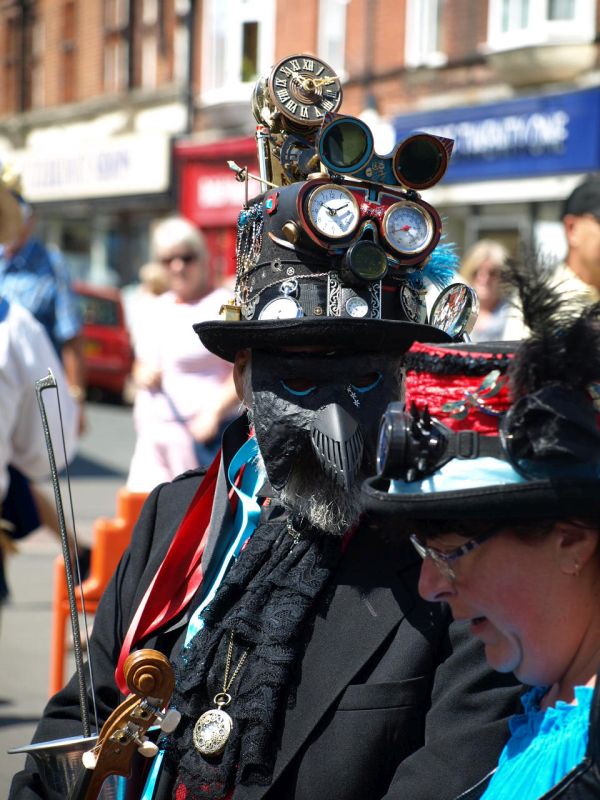 Slack Ma Girdle musician with founder member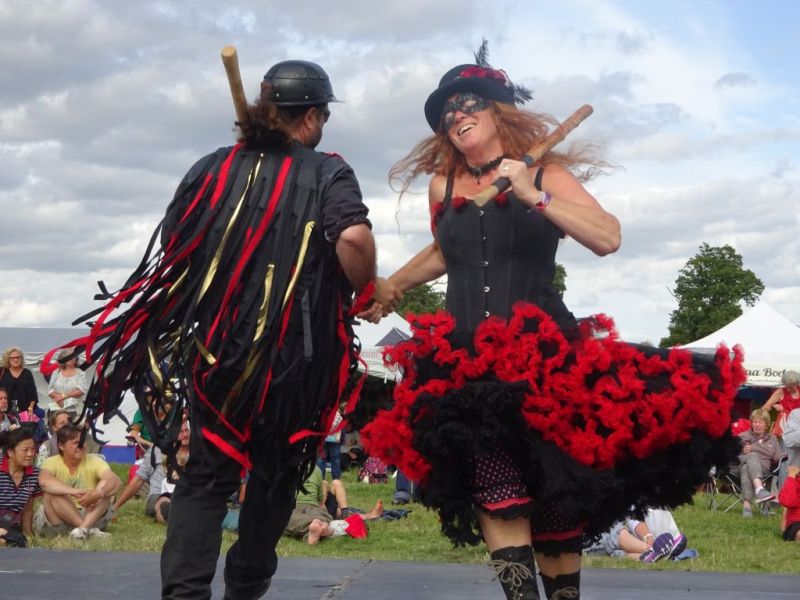 Treacle Miners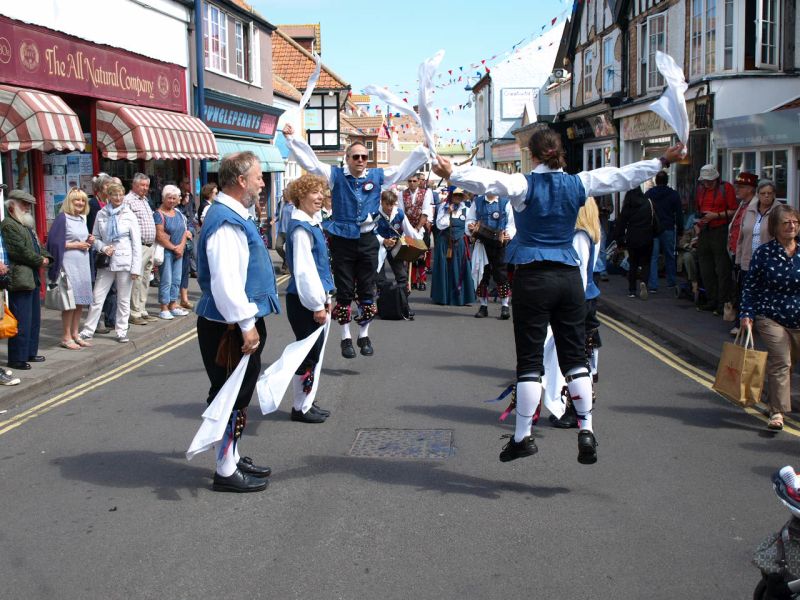 Rumburgh get airborne at Sheringham 2017
So can we feel confident about the future of Morris in the East?  There has been a bit of a clear out, not just of male sides and not just Cotswold sides; mixed sides have suffered even more badly than the men.  There have been attempts to create new men's sides (Milton MM) but successful new sides, although not just Border, are overwhelmingly mixed.  There are plenty of single gender sides that have been around for years and new sides have been consistently created throughout the region.  So, yes I feel that the revivalist sides of the 1970s have done well.  They have not all survived into a new century but they have kept the tradition going and have inspired a younger generation of dancers to reinvent, extend and diversify the Morris family. 
Sadly the only photos of dead parrots that I can find are of Haverhill Harlots, Lobster Potties, and Mount Bures MM but if readers would like to send in photos or articles about any of the dead parrots, especially Rusty Relics, Duck Race or Sally B's I'd be delighted to receive them.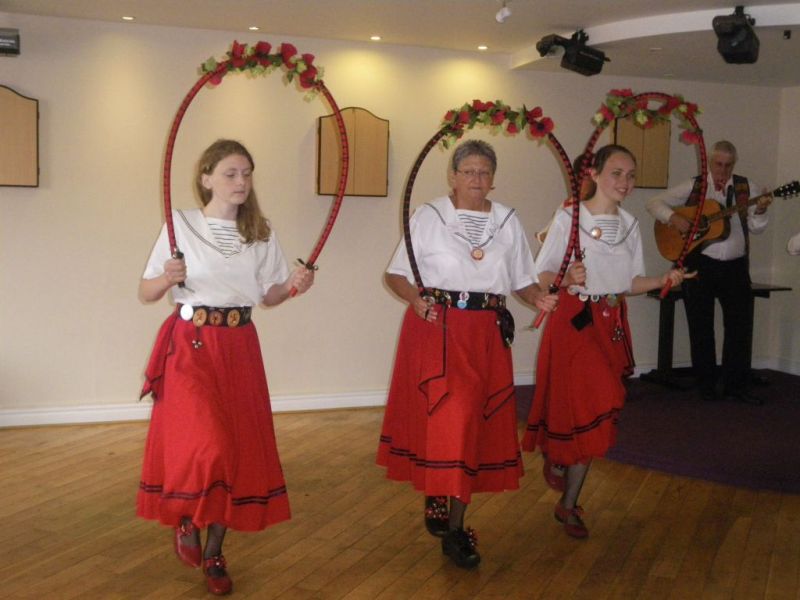 Lobster Potties
Haverhill Harlots dancing in Hundon   on St Georges Day in 2010 (approx)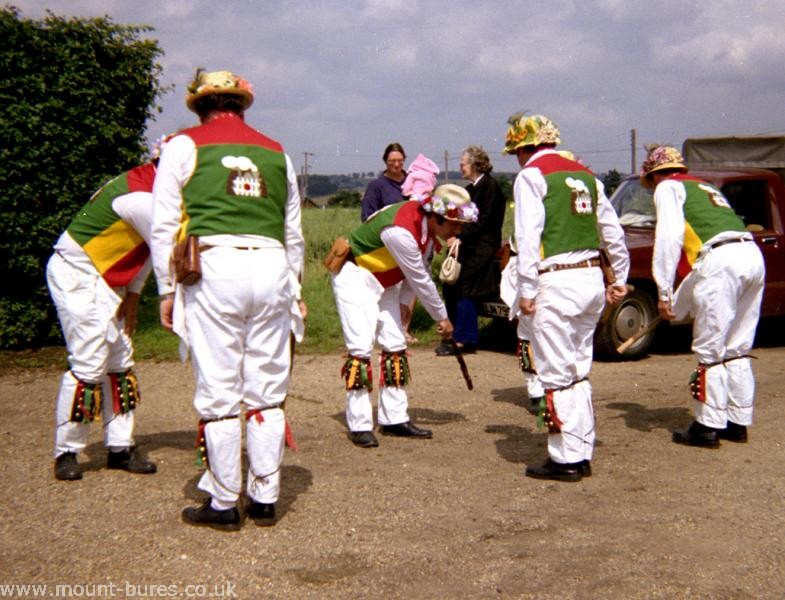 Mount Bures Morris Men dancing Bean Setting in 1983 (photo by Paul Pugh)
Dave Evans
(September 2017)