by Jill Parson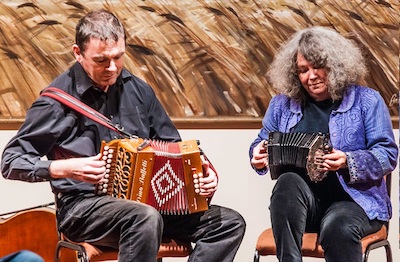 Since Suffolk Folk 'morphed' into mardles.org in 2017 the idea of putting on events in East Anglia was always near the top of the agenda for the steering committee. Enter Vintage Squeeze! a group of enthusiastic melodeon players based in Norwich who will travel almost anywhere to reach a workshop that would help them improve their mastery of the instrument.
Through a mutual contact, the idea was raised that as a first venture into organising a folk-related event putting on a day of melodeon workshops in Norwich would be a good place to start. It was! And it was a good collaboration too.
The melodeon players themselves decided on the format and level of the day. They researched and found a brilliant venue in St Luke's Church, Norwich and did a great job of spreading the word in the local area.
In the meanwhile, mardles.org were getting on with publicity material, sourcing the course tutors - the wonderful Mary Humphreys and Anahata - and setting up a system for handling tickets sales, advertising and general 'official' things that are always associated with putting on a public event.
On the day over thirty participants turned up, mostly playing melodeons, and they settled down to a morning workshop run by Mary and Anahata which concentrated on learning tunes by ear and very much in line with the main aim of the day which was 'Playing together'.
A relaxed lunchtime session under the benevolent eyes of Val and Simon Haines carried everyone on into the afternoon where there was a choice to be made between looking at tunes in slightly more depth with Anahata or disappearing downstairs with Mary to experience playing tunes that had harmonies written into the score.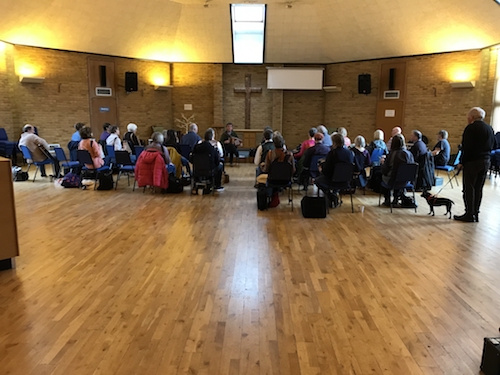 There was plenty of tea, coffee and biscuits on offer during the day, so after a short break everyone assembled back in the main hall for a showcase session where both groups played the tunes they had been working on for the benefit of all.
It was impressive to hear how much people had picked up after such a short amount of time concentrating on some interesting tunes and crucially, learning them for the most part by ear!
Pete Ward of Acorn Instruments came down from Yorkshire with a van full of Castagnari melodeons, and Alex Bartholomew was a very welcome presence bringing lots of publicity material for the very exciting events that are being staged by East Anglian Traditional Music Trust later in the year.
In the evening several people turned up for a session at the Wensum Community Centre, which was very enjoyable and much appreciated by the other customers in the pub.
All in all, it was a great day. Many thanks to everyone who made it happen. Judging by the encouraging comments on the feedback forms, there may be a very good chance that this event will be repeated next year! I certainly hope so.
Mary and Anahata have sent us a link to their website where they have put some of the music they taught on the day. Click HERE