Written by Debbie Jones, Press Officer, Harwich International Shanty Festival

Debbie Jones, Press Officer, Harwich International Shanty Festival
This year's HARWICH INTERNATIONAL SHANTY FESTIVAL takes place on the 11th, 12th and 13th of OCTOBER and will soon be only six months away! Once more the narrow streets and alleyways of this old town will resound to the rousing sounds of shanties and songs of the sea as befits its rich maritime history. The guest list is filling fast with many artists already confirmed from Canada, France, Denmark, Poland and Germany as well as all over the UK - and more to come. Much of the entertainment is free! Here are some of the exciting acts to look forward to!
Brise-Glace (Icebreaker) is a band of 4 French Canadian musicians/singers playing accordion, banjo, guitar, bodhran and washboard. They sing maritime folk from Quebec, the Canadian Maritimes, Brittany and North America with passion and energy.
Carapat consist of four singers and musicians from France singing traditional songs of sea and river, Playing a variety of instruments including fiddle, accordion, guitar and concertina, Carapata combine their musical talents with superb voices and an in-depth knowledge of French maritime songs.
Don McKinnon is an engaging Nova Scotian performer with a glorious baritone voice, dextrous guitar work and intelligent, well-observed story-songs, His performances bring alive the history and spirit of our collective past. He has appeared at Festivals and clubs throughout Canada and the USA, Great Britain and Australia.
Geoff Higginbottom has been singing Sea Shanties since the day he first went paddling at Blackpool and has a vast amount of knowledge on the subject. He accompanies himself on guitar and mandola as well as singing unaccompanied and becomes a duo when joined on stage by Woody the dancing doll!
North Cape will be visiting Harwich for the second time and have been singing acapella shanties and sea songs in harmony since 1995. They perform all over their native Poland and have won prizes at several national competitions.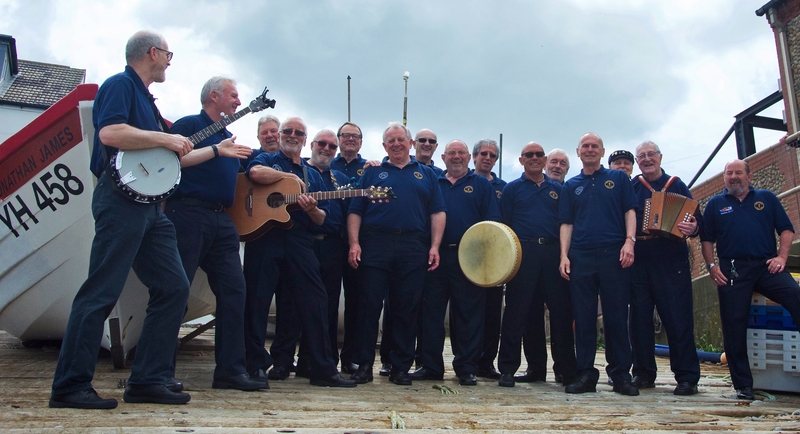 Sheringham Shantymen will return for the second time. They have been singing together since 1990 and still have some of their original personnel. They will return for the second time. During that time they have entertained over 1000 audiences at home and abroad and support the RNLI as their main charity.
New to the festival this year are the Rum Old Boys from Woodbridge, just a short boat ride away up the River Deben, singing shanties and songs of the sea, and the Silver Darlings, an all female shanty crew from Southend combining beautiful harmonies with an energetic and engaging performance
Well loved regular guests include Hans Weehuizen (Dutch Uncle), Alan Whitbread,
Charlotte and Spong, Tyburn Road, Felixstowaways, Swinging the Lead, Malcolm Ward
and Pete Stockwell, Mains'l haul, Motley Crew, Naze Shanty Crew and the homegrown
Harwich Shanty Crew.

Also happening during the festival is the usual entertaining mix of Pirates, Soldiers, Street Theatre,
Barge Cruises, Beer, Workshops, Music Trains, Concerts, Guided Tours and Music Sessions.
Check our website regularly as more details are released. www.harwichshantyfestival.co.uk