written by Steve & Mary Dickinson (6.05.2019)

On Sunday 5 May the Ship Inn at Blaxhall in Suffolk was bursting with folk who had gathered for this year's Percy Webb
competition. After Percy Webb died it was decided to buy a pewter tankard and sing for it annually to remember him.  The current tankard, kindly donated by Suffolk Folk (www.mardles.org) in 2007, replaces the lost original – and the replacement trophy has been engraved with the names of all past winners.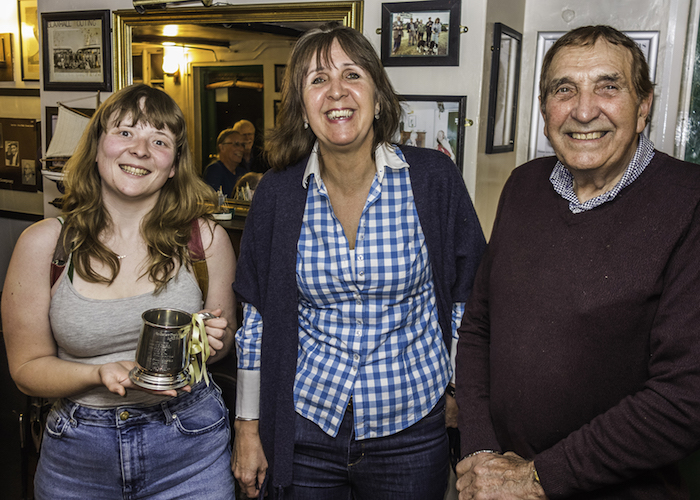 With twenty-two entries this year, the competition was held in three parts, with each song performed as the contestants' names were drawn from the tankard.  There was a terrific mix of song choices, and all were well received
Sheila Park: The Lowlands of Holland 
Tess Gardener: Limehouse Reach
Alistair Cameron: Bonny Bunch of Roses 
Will Podd: The Rose of Allendale 
Rosy Thornton: The Blacksmith
Tracey Wisdom: Tarry Trousers 
James Scott: The King's Shilling 
Penny Mackay: Waly Water (The Water is Wide) 
Megan Wisdom: The Bonny Hawthorn
Dave Tricker: Deep Sea Tug (by Harry Robertson) 
Lexy Scott-Hornsby: Linden Lea 
Terry Davey: I've Got Something to the Thankful For 
John Griffiths: Willie Archer 
Gemma Khawaja: The Recruited Collier 
Sue Griffiths: Sandgate Lass's Lament
Steve & Mary Dickinson: Magdalen Green 
David Coter: A Fair Maid Walking 
Zoe Wadey: Pleasant and Delightful 
Barrie Haywood: Black Dog & Sheep Crook
Steve Danby: One Starry Night 
Deidre Lamont: The Road To Dundee 
Aryn Clark: On Raglan Road 
There was one last song before the votes were counted – a rousing rendition of  Happy Birthday for Percy's nephew,
George Gooding (aka Mick).
And The Winner is – Megan Wisdom with her delightful rendition of The Bonny Hawthorn – congratulations Megan!  We wish Megan the very best when she takes her place on the Folk and Traditional Music course at Newcastle University this September.  We were thrilled to have Percy's niece – Amanda Clampin – and George present Megan with the tankard.  Megan also received a cash prize from landlord, Rob, on behalf of the Ship Inn.
As always, there were no entry fees, but a collection pot was passed round for the St Elizabeth Hospice.  Thanks to all for their donations.  The pot will be given to the Hospice tomorrow and we hope to know the total collected very soon.  
The event was traditional entertainment of a very good standard.  We are grateful to all the performers as well as the audience for supporting the competition; to Linda and Mike for counting the votes; and to Terry, Rob and Staff at the Blaxhall Ship for their hospitality. We look forward to next year's competition, which is to be held on Sunday 3 May 2020.