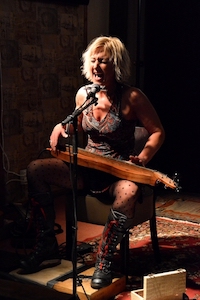 BRILLIANT international singer and multi-instrumentalist Sofie Reed is coming to Maldon, Essex early next month for the latest in a successful series of concerts in the town's historic Blue Boar Hotel.

Sofie grew up in Ludvika, Sweden, but now gigs worldwide from her base in Buffalo Creek, Colorado, USA. She is currently touring in Europe and agreed to extend the UK leg of her tour to fit in BATB Promotions' latest Maldon show. Sofie left Ludvika, Sweden, aged 18 in 1987 and settled in Minneapolis, USA, where Sheila Charles - daughter of the legendary Ray Charles - hired her as a backing singer.  That led to recording sessions and performances with her ex-husband, fingerstyle guitarist Preston Reed, before she quit Minneapolis for Colorado. 
She's a self-taught one-woman-band who sings, plays harmonica, mountain dulcimer, lap steel guitar and other instruments - all the time stomping her foot on an old wooden wine box to provide a strong beat. Over three decades, she has evolved as a vocalist, composer and one-of-a-kind musical visionary, with a style that encompasses roots-blues, folk-blues and Appalachian roots.
The gig is in the Long Room, upstairs at the Blue Boar, in Silver Street, Maldon, Essex CM9 4QE, on Friday, April 5. Doors open at 8pm and admission is £10. The venue has a limited capacity, but places can be reserved in advance by emailing This email address is being protected from spambots. You need JavaScript enabled to view it.
For more information about Sofie Reed, along with video and audio clips, visit www.sofiereed.com