Once more the streets of Harwich will come alive with music and song when Harwich International Shanty Festival  celebrate their 13th year from  the 5th to 7th October  2018 with an exciting line up of artists from near and far!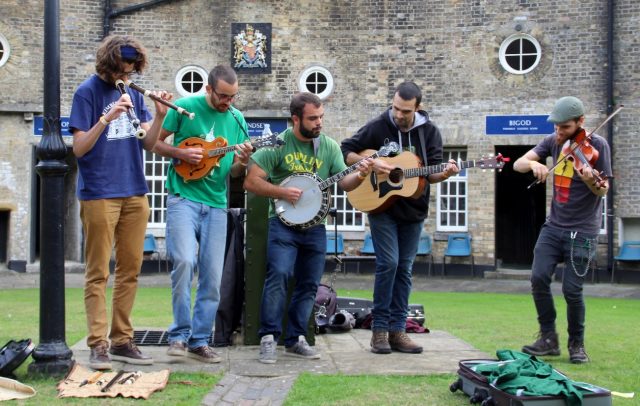 El Pony Pisador
International artists include El Pony Pisador, a folk group from Barcelona, Men Overboard, from St. Petersburg, Russia, Scheepsfolk, a four piece maritime folk band from the west coast of the Netherlands, Dutch Uncle also from the Netherlands who will be performing solo and in a duo with Ken Stephens as well as running "Playing the Bones" workshops, and Nordet from Lorient in Brittany whose energy, enthusiasm, humour and musical ability make them an act not to miss.  British performers include The Slow Loris, The Exmouth Shanty Men, The Portsmouth Shanty Men and many more excellent acts

Nordet
Many of the events happening in the town are free!  Shanties and Sea Songs reverberate throughout the old town in a musical celebration of its rich maritime heritage. As well as the pub sessions and concerts, several workshops are taking place, including two Harmony Singing workshops, a spoken word workshop and the popular Bones Workshops with Hans Weehuizen instructing participants in playing this traditional maritime percussion instrument.
Pirates, soldiers, vikings and other strange and colourful characters will again be roaming the streets and other events include street theatre, Kings German Artillery, a special shanty train with activities and pirates, and maritime crafts at the Redoubt Fort.
There will be sailing ships, the Excelsior and Victor on the Ha'Penny Pier.  The Excelsior will again be offering B&B over the festival weekend and a chance to look over this historic fishing vessel.  There will be Shanty Singers and other events happening on board throughout the weekend.  There will be trips on board the Victor-usually with musical entertainment.
For full details of all events a programme is downloadable from this website, a few weeks before the festival, or available to purchase at many venues throughout the town. Browse through the pages of the website, www.harwichshantyfestival.co.uk   to find out more about who is appearing and other events to see.