by Sally Hall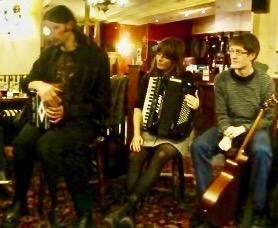 My big accordionI long to play music in a way which feels fun and soulful… to feel joy from music, without shame or inhibitions. I dream of feeling relaxed at trad sessions and not wishing that the ground would swallow me up. I imagine how it would feel to play confidently, without the nervous shakes that come when I feel I'm getting it wrong. I long to feel a part of the lively jigs and reels at sessions, and the soft waltzes and airs.
I have been trying to do this for so long but it has always felt like an uphill struggle. In the last few months however, I'd say that I've had a breakthrough, which has come in the form of a new, little box.
I have always had accordions in my life. As a small child, I sat cross-legged, mesmerised by my grandma's huge piano accordion. "Again, again!" I used to say, "Ragamuffin!" (my favourite jazzy ragtime tune).