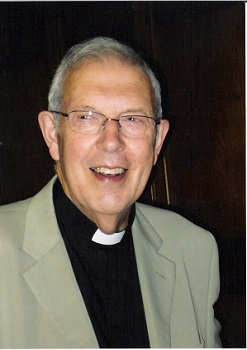 The late Rev. Roger Dixon - first to recognise the importance of the songs and tunes of Norfolk's Walter Pardon
North Norfolk folk organiser and archivist Brian Gaudet recalls the remarkable discovery in 1974 of traditional Norfolk singer Walter Pardon at the age of 59 – and the role played by the late Roger Dixon.
A memorial service has been held for the retired East Anglian teacher and clergyman who played a vital role in the discovery of Norfolk source singer Walter Pardon.
The Rev Roger Dixon, who died after a long illness, aged 84, earlier this year, was the lucky link between Walter – his second cousin – and revival singer/musician Peter Bellamy who had once been one of Roger's school pupils.
Born in the small north Norfolk village of Knapton, close to the market town of North Walsham, Roger John Dixon took great interest as a boy in "the old songs" sung by his relation Walter.
Walter's maternal grandfather, Tom Gee of Bacton, who unusually could read music, was reputed to have a repertoire of about 100 songs – many of which were passed down to Walter's uncle – also Tom Gee.
Walter however learned most of his from another uncle - Billy Gee, born 1863 – who used to sing regularly in the concert room of the former Mitre Tavern in North Walsham as well as other local pubs.
The Gee brothers had separate repertoires and Walter always considered it wrong for one member of the family to sing a song which was "the copyright" of another.
As Walter told Peter Bellamy in the early 1970s: "I asked Uncle Billy how it was that my grandfather managed to learn a hundred 'cause that was very seldom he went out of the village – perhaps one day in the year to Norwich, or occasionally to North Walsham, and he said that was how they got round - by broadsheets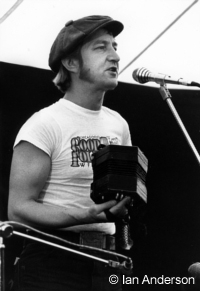 Peter Bellamy
"None of 'em got saved in the family; there was only one old song that I ever did find – "The Transports" wrote out by hand.
"I never did see any of the broadsheets; they must have got destroyed somehow or other."
Walter, born in 1914, had a prodigious memory and in his youth learnt many of Billy Gee's songs – but unlike his uncle never became a pub singer.
"I only sang 'em for myself and for the family, never in pubs.
"They used to be ridiculed here. They used to say: 'Why don't you learn some new songs? We don't want to hear them old things!' They were termed 'antiquated'. That is so!"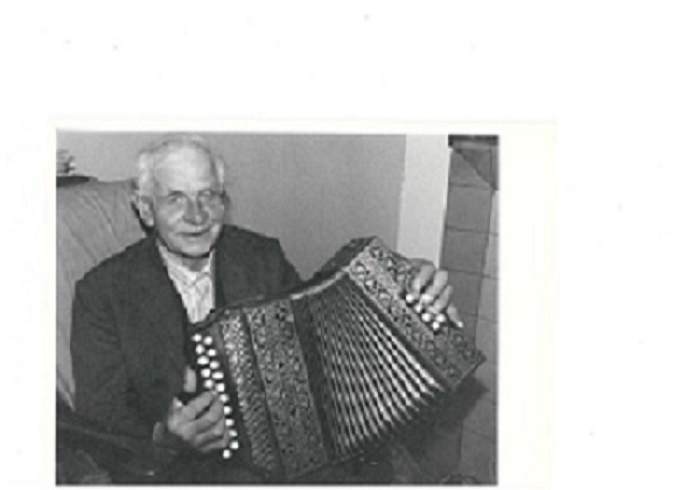 Walter Pardon
Roger Dixon not only knew of Walter's impressive repertoire and melodeon playing but felt it was important for the songs to be preserved in some way and handed down to posterity.
As Walter recalled to record producer Bill Leader in 1974: "Nobody seemed to want to know anything about the songs, so they lay dormant until Roger Dixon, he was the one who wanted them right from a boy. That was the reason they came out.
"He asked me years back. He used to come in here (Walter's Knapton cottage) for his tea, with his mother and father and I, when he was a right small boy and I used to play some of these tunes over, you see, these old folksongs, and he used to ask what they all were
"And it would be about ten years ago when he wanted to bring a tape recorder down here to record them and I thought I never could sing them good enough to put them on.
"When I first did put them on, I wiped them out because I thought they sounded horrible. I never thought anyone would ever want to know and I never had no idea about folk revivals or anything like that."
It was Roger Dixon's persistence which brought Walter Pardon to a world-wide audience.
After attending Paston (boys' grammar) School in North Walsham. Roger became a teacher rising to be head of history at Fakenham Grammar School, also in north Norfolk, where one of his pupils was a young Peter Bellamy, then living in nearby Warham.
It was several years later, in the early 1970s, when Peter went back to sing at his old school that Roger told him of his relation Walter who seemed to know lots of similar songs.
Intrigued, Peter asked Roger to try again to get Walter recorded and when a tape was finally produced – several months later – Peter acted as an enthusiastic intermediary to get his record company boss, Bill Leader, to visit and record Walter.
The young, flamboyant, arty, revival singer and the quiet-mannered, down-to-earth, life-long carpenter and bachelor Walter were to become firm friends and Peter did much to evangelise Walter's importance as an important and sensitive source singer.
As well as paying tribute to Roger Dixon's efforts to spread Walter's wide and impressive repertoire, Peter Bellamy said in the sleeve notes to Walter's first LP ("A Proper Sort", Leader Records, 1975):
"This record, and the others which shall follow it, will guarantee that his songs and his singing find a permanent and eminent place in the chronicles of English folk-song."
Roger Dixon's love and enthusiasm for Walter's family song heritage and repertoire led to Walter recording four LPs – "A Proper Sort" and "Our Side of the Baulk" (both Leader Records), "Bright Golden Store" (Home-Made Music) and "A Country Life" (Topic) all released before the singer's death in 1996.
Live recordings of Walter at Torquay Folk Club in 1982 were issued by People's Stage Tapes and two CDs of previously unreleased recordings made by Mike Yates in 1978-82 were put out as "Put A Bit of Powder On It, Father" after Walter's death by Musical Traditions.
Other miscellaneous recordings by Walter have been issued in Britain and abroad by Topic, the EFDSS, Veteran, Folkways and other labels. Thanks to Roger Dixon's initial efforts there are now recordings of Walter on more than 180 songs.
He became a regular performer at the folk club run by Cliff and Pauline Godbold at The Orchard Gardens pub in North Walsham in the 1970s and early 80s.
After an introduction to the wider folk world at other Norfolk folk clubs and sessions, Walter appeared at the Norwich Folk Festival at the University of East Anglia in the mid 1970s, other clubs and festivals around the country, and he was among a group of British singers and musicians who visited America in 1976 to perform during the US bi-centenary celebrations.
He was filmed by American folkie anthropologist John Cohen for the film "The Ballad and the Source" in 1983 and the same year received the EFDSS gold badge for services to folk music. Walter died in 1996.
After a career in teaching until 1982 Roger Dixon was ordained by the Church of England and served as priest-in-charge of Brandeston and Kettleburgh, Suffolk, and was chaplain of Brandeston Hall School from 1982-98.
After a few years retirement in his native north Norfolk Roger moved to Cardiff in 2005 where he assisted at Llandaff Cathedral.
A monthly folk session called Uncle Walter's Music Night started at The Orchard Gardens in 2010 and still runs on the fourth Tuesday of each month. Details from This email address is being protected from spambots. You need JavaScript enabled to view it.
The pub bears a plaque commemorating Walter's many performances there over the years.
A Walter Pardon Centenary Folk Festival was held in North Walsham and Trunch in 2014 and Roger, along with Martin Carthy, Bill Leader and John Howson of Veteran Tapes, recalled personal memories of Walter.
A six-piece Uncle Walter's Centenary Band was formed for the festival by musicians Alan Helsdon and Chris Hoderness and the band later released a CD and tune book of Walter's melodeon tunes called "Turn Me Bike Round" – see quanting.co.uk
Roger was also filmed for the short documentary "Walter Pardon – A Life in Song" which was made for the centenary festival and which can be seen on You Tube.
On the final day of the weekend festival Roger led a graveside gathering in memory of Walter in Swafield Churchyard.
Martin Carthy reprised "Sleep On Beloved" which he and wife Norma Waterson had sung at Walter's funeral and local folkies recalled Walter in music, words and song.
One of them, Alan Helsdon, also played all of Walter's melodeon tunes at Roger Dixon's memorial service held at Brandeston Church on June 29.
Roger Dixon leaves a widow Stella, and family.
· * With special thanks to Stella Dixon.
· * Walter Pardon quotes from Folk Review magazine and Leader Records.
© Brian Gaudet, 2018.