You are here:  

Belles of London City to join the "Men only" Morris Ring? I don't think so.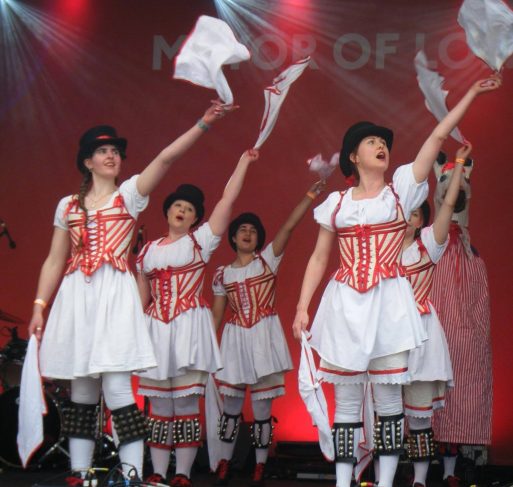 The Belles of London City
The Morris Ring founded in 1934 may not survive to celebrate its 100th birthday as a fundamental change to its constitution is being proposed which will end the "men only" dancer rule.
Adam Garland, recent past Squire of the Ring, wrote in the "Morris Ring Circular" magazine in July last year with his reflections on his two years in office (2014 -16).  He reminded readers that Morris has a long history in England and has evolved during that period.  In the twentieth century the Morris Ring saw itself as the custodian of the Morris tradition but in the twenty-first century, under Adam's leadership, it "permitted" Ring sides to include women musicians and then ensured "that Ring Meetings should be open to all members of all clubs".  Adam argued in his article that the Ring should go further as a "change in the Ring constitution to welcome women dancers as members of the Morris Ring is long overdue".
At the time I wondered why any side with women dancers would want to join the (almost) all male Morris Ring; surely existing sides are happy to join one of the alternative organisations, the Morris Federation or Open Morris and with these alternatives why would a new side want to join the Ring. 
I have previously paid tribute to Adam's achievements during his Squire-ship and congratulate him on facing down some of the dinosaurs in the Ring by inviting the leaders of the Morris Federation and Open Morris to join the East Suffolk Ring meeting in September 2016.  At that time I thought the Ring was likely to survive this innovation and openness but now feel that the decisions made during Adam's term of office have sowed seeds which will ensure that the Morris Ring self-destructs through a process of voluntary euthanasia and I wonder if that would be such a bad thing?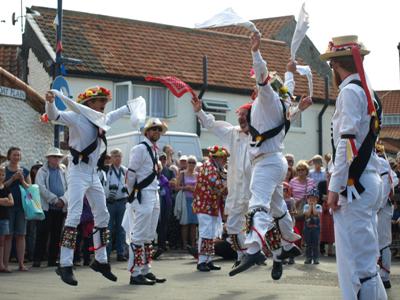 Leicester Morris Men performing at Sheringham 2017
The logic of Adam's ideas has been taken forward by Leicester Morris Men who propose the omission of all specific references to "Men" in the "Objects and Definition" section of the Ring's Constitution.  The motion will be debated at the Annual Representatives Meeting on 10th March and proposes that:
"The Morris Ring shall be an association of Morris, Sword and Mummers Clubs and Teams.  Any established Club or Team which meets regularly for Morris or Sword Dancing or Mumming, and endeavours to uphold the standards and dignity of the Morris, shall be eligible for Membership of the Morris Ring".
This approach seems to undermine any claim the Ring can have to a unique "USP" as I cannot see how this differs from the purpose of the Morris Federation "an association of self-governing morris teams, which aims to: encourage and maintain interest in the practice of morris dancing by women and men of all ages; provide a channel of communication between member sides; and encourage the improvement of standards of dancing among its members".
Similarly, Open Morris says that it is "open to any group or individual involved in the performance of Morris Dancing or allied activities.  All sides are welcome – mixed, male or female, as are dancers or musicians who wish to become individual members".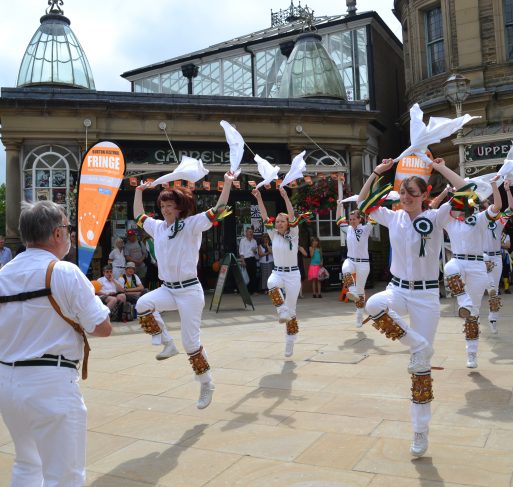 Windsor Morris dancing at Buxton 2013; Photo by Charlotte Dover
Does this herald a future amalgamation of all three Morris organisations and an end to all claims of male exclusivity or superiority?
Since the proposal was announced in the Morris Ring Newsletter at the beginning of January there have been over 250 emails on the subject.  I will cover (some of) these in a separate article.
Dave Evans
7th February 2018