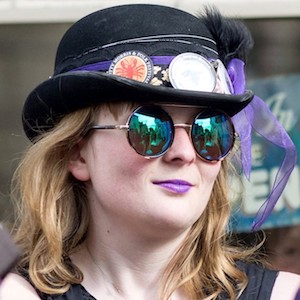 Hidden away in the North of Suffolk near the legendary Wissett treacle mines is a young talented, traditional singer and musician who has a growing reputation, both locally and nationally, for her pure voice and fine, clear singing style. At 24, Megan Wisdom is Suffolk through and through, she was born in Ipswich but moved at an early age to the north of the county. She went to school in Halesworth and Bungay and while there she started to develop her interest in music.
At the age of 7 she was taught at school to play the ocarina by her teacher and traditional music enthusiast, Judy Andrews. The ocarina is an unusual instrument known historically for around twelve thousand years and is a type of vessel flute. The English version of the instrument has 4 to 6 holes and is often produced in a pendant style and is easily portable. Megan remembers the first song played on the ocarina was the 'Skye Boat Song'.
She was steeped in traditional music from an early age, as both her parents used to sing and play together as a duo. Her father, Paul, is a leading member of Rumburgh Morris and also sings and plays a concertina which he has designed and constructed himself. Her mother, Tracey, is also a local singer and a fine fiddle player currently playing with Harbour Lights Band amongst other projects.
Megan had many opportunities to develop her musicality. At Primary school she learned to play the descant and treble recorder and at middle and high school moved onto the alto saxophone. She was fully involved in all the school music activities: choirs, a wind and jazz band and school musicals.
Outside school, partly due to family influences, she developed a more traditional musicianship. She taught herself the whistle and used that in a local session that followed the Morris meetings in the Rumburgh Buck. Encouraged by her parents the first song she sang solo was 'Red is the Rose'.
From the age of 17 she started attending the second Thursday, Southwold Harbour Inn sessions. This gave her many more opportunities for playing and singing with other musicians across East Suffolk. She entered and won a song writing competition at Hadleigh Folk Club and in 2015 won the prestigious and long running Percy Webb Cup. This competition, which is now organised by the Everyman Folk Club, is held annually in the Blaxhall Ship Inn. The cup is awarded to the best local traditional singer as judged by the singers themselves.
In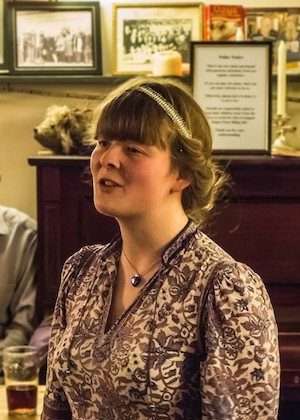 2017, Megan was a finalist in the National 'New Roots' competition held in St Albans. This event attracts many of the country's festival and folk club organisers. Concert and festival bookings followed as a result. She has performed at the Sidmouth Folk Week, FolkEast, the Shannonside Winter Music Festival in Ireland, St Neots Festival, even the National Sheepdog Trials as well in a number of UK folk clubs. Although she started by singing unaccompanied, Megan has more recently bought herself a table harmonium which she now plays on some songs. The table harmonium is an interesting instrument and its bellows are pumped with one hand whilst the other plays an accompaniment. Megan issued her first EP 'Tracery' in 2018. This includes the Baptist Hymn 'How Can I Keep from Singing?' – how indeed!
Megan's interests and expertise are not just confined to singing, however, as she is an active musician and dancer for 'Pretty Grim' Border Morris side.  Unusually, they have quite a few young dancers and make a fine sight in their purple and black kit dancing locally or further afield at events like the Whittlesea Straw Bear Festival. She also often plays her whistles and saxophone at the monthly Dance Folkus events in Woodbridge. Megan is very creative and is also interested in local history and folklore. She studied for a City & Guilds qualification in dressmaking and clothing design and subsequently has made mediaeval children's costumes, designed and made her own clothes and undertaken a few commissions. She designed her own CD sleeve and website (see below) and has helped other local organisations with logos, posters and design ideas.
By her own admission, Megan is a' bit of a magpie for junk' and loves visiting locations which sell bric-a-brac, books and anything that could be historically interesting. This love of junk has led to quite a few serendipitous discoveries. In 2018, she found a rusty old plaque in a second-hand furniture shop in Ditchingham and decided to buy it as it looked interesting. It had the name Jonathan Trelawny inscribed on it and she wondered whether it was connected with the famous Cornishman immortalised in 'The Song of the Western Men' –
'And shall Trelawny live and shall Trelawny die,
Here's twenty thousand Cornishmen shall know the reason why'
Further internet research concerning Pelynt church, where Jonathan Trelawny was buried, revealed that it was a tin coffin plate stolen from the wall of the church in 2016. Megan contacted the local vicar and returned it by mail. They had a special ceremony at the church on Trelawny Day which was reported on the local news and attended by some Trelawny descendants. Megan was given a small reward for her find and heartfelt thanks. How the coffin plate got from Cornwall to a shop in Suffolk is not known.
She has been equally successful in finding unusual historical books. While researching a local song sung by Mike Acott entitled 'The Battle of Sole Bay', Megan came across a copy of the Georgian book 'The Suffolk Garland'. She found this to be a rich source of Suffolk folklore, stories and poems. Subsequently, in a Beccles book shop she found the companion book 'The Norfolk Garland'. These are likely to provide future material for songs. A recent discovery of an 18th century dictionary has inspired her to set up a Twitter page which uses this book to promote discussion about unusual, old word definitions.
Megan is interested in getting more young people involved in music, dance and English traditions and culture. She set up a young person's traditional music making group called Folkwise and hopes to involve young people 'by spreading it from the inside - out'. She believes that the more we maintain and celebrate our own English traditions and culture and that 'the more we will be able to celebrate and accept those from other countries too…. we will have a bit more empathy with people of other countries who do the same thing'.
In the future, Megan intends to use her local research to compose songs of her own which will complement her current traditional repertoire. She has a beautiful voice so why not employ serendipity and go and listen to one of her local concert performances. You won't be disappointed by your find!
Written by Rob Neal
Pretty Grim Morris Photos by Bernie Kedge
Megan's website: http://www.meganwisdom.co.uk/index.html