Review by Colin Hynson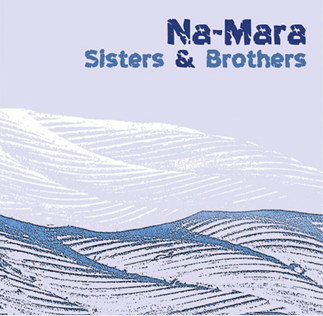 Sisters & Brothers is the fifth album from this guitar and mandolin duo - with occasional guest musicians. They have established a strong reputation within traditional music circles for their interpretations of both British folk songs but also from the French and Spanish–speaking world.
The first piece of music on this album is the title track. It follows the tradition of British folk songs highlighting the exploitation of workers whether in the field or in the factory. The song acknowledges a globalised economic system in which the exploitation sung about in the past has now been exported to the developing world. 'Sisters and Brothers' remembers the over 1000 workers who died in Bangladesh in 2013 when the garment factory they were working in collapsed.
'The Sirens Call' is another self–penned piece. This time dealing with the issue of addiction. Many folk and rock/pop artists have covered drug and alcohol addiction. In the former there are songs by Spirit of the West and the Levellers. For the latter there's Ed Sheeran, Any Whitehouse and Nine Inch Nails amongst many others. This is the first time that I've heard a heartfelt song about a man's gambling addiction and the support gets from his wife.
For track number three we are in the familiar territory of a soldier returning home and unsure how his sweetheart will greet him. It's a translation of a Québécois song performed by an electrofolk band called Mélisande. So a traditional song made electronic and then translated and turned back into an acoustic piece. It's worth listening to and, on top of that, it meant that I'd discovered an electrofolk band I'd never heard of.
We stay with a French theme with medley made up of a Breton folk tune to which has been added a self–penned Bourrée (a kind of French dance music) and an arrangement of a Galician Muiñeira (a kind of Spanish dance music that has a faster tempo than a Bourrée).
Up North of the border for with a beautiful arrangement of an old Scottish song 'Times Wears' Awa''. It tells of an old man looking back wistfully but with no regret on his youthful years. It's also recently been covered by Jean Leslie and Siobhan Miller.
Then a couple more arrangements of traditional French songs before we arrive at 'The Black Widows'. Songs about criminals brought to justice were popular for hundreds of years and were sold as souvenir broadsides at public executions. This song is about the 'Black Widows' about a Victorian insurance scam. Two women in Liverpool ran a boarding house and took out multiple insurance policies on their tenants. They then slowly poisoned them with rat poison before making a claim. They were tried and executed in 1884.
Two more self–penned songs with a political slant then follow: one contemporary and one historical. 'We Met Upon the Barricades' is a story of a woman who falls in love with a fellow radical firebrand and together they have a child. He then disappears with the flimsiest of excuses before reappearing some time later and admitting he was an undercover police officer. A song clearly inspired by the recent scandals of police officers infiltrating peace and environmental groups and having relationships with women in the groups.
The second song is 'The English Penny' and touches on a virtually unknown aspect of the Spanish Civil War. When the story of the British volunteers in the International Brigade is told then the names used are all male. There were some British women who went out as well to act as medical support. This song is the story of Penelope Phelps known by all there as the English Penny.
The album finishes off with a couple of Québécois–inspired songs. The first are a couple of reels put together. The last song is 'The Poor Refugee' which uses the tune of a traditional Québécois song but adds new words to record the plight of refugees fleeing a war zone.
Na–Mara are a duo with a well–established reputation for song–writing skills with a strong narrative linking historical and contemporary themes. This is an excellent addition to their repertoire. If you've heard them before then you won't be disappointed. If you haven't heard them before then the album is a good place to start listening.

More information on Na-Mara website