Written by Mike Laurence

Mike Laurence

Hits: 4540

4540
Saturday 11th November 2017 - An evening of singing and dancing
Laura Cannell, The new Director of the East Anglian Traditional Music Trust (EATMT) and her Team organised a fantastic night at Earl Stonham Village Hall.
Professional & amateur musicians, singers & stepdancers came together to provide a very merry, happy evening enjoyed by all
 The evening started with music in the bar area from Hushwing, a 6-piece band devoted to the traditional tunes of their home county of Norfolk. Their repertoire consists almost solely of tunes which have been collected in the county. They told us that Hushwing is a Norfolk dialect word for a barn owl.

The concert opened with toe-tapping music played by the Company of Horham Old School. The Horham Old School folk session/ group is a wonderful legacy of the EATMT project "Musical Roots" which took place over a decade ago. Workshops for budding musicians and singers focused on the traditional music & song of East Anglia. When the Project ended, most of the group wanted to continue and started to meet at the Horham Old School Room. This continues and has expanded to include many other friends who have since joined the group.
Doreen West O'Connor and friends Ella Beal & Sue Mitchell gave us all a grand display of their stepping skills throughout the evening whenever the music suited the stepping.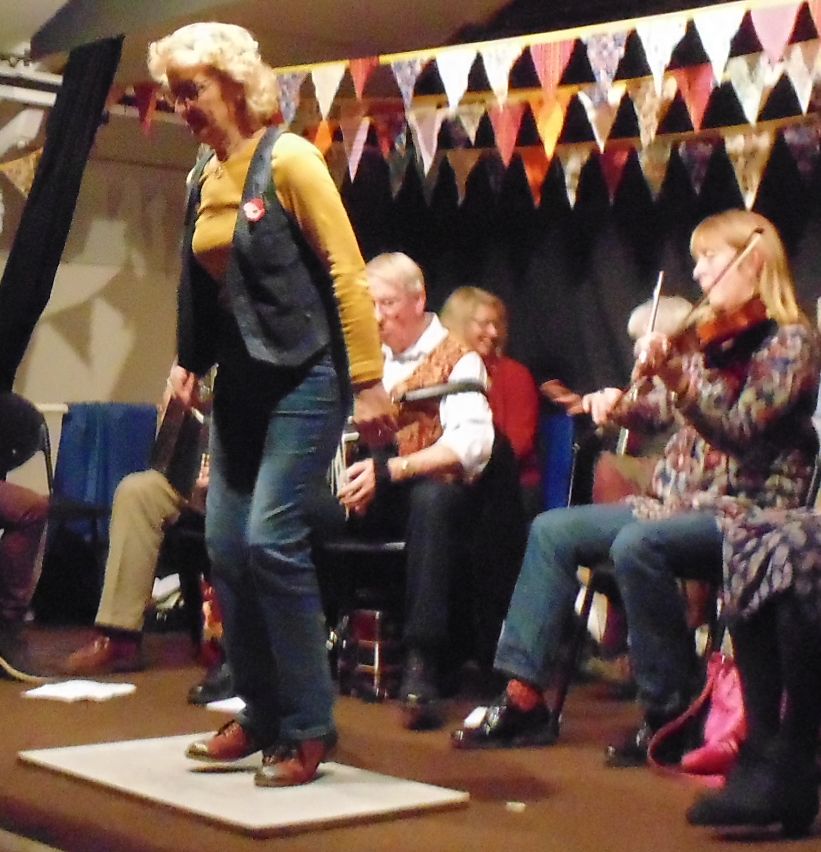 Supper break was next with an excellent ploughmans from Everyday's a Picnic enjoyed by all plus, a visit to the bar by many to enjoy a pint (Raveningham Bitter or Grain Brewery), followed later by tea and delicious home-made cake.
Otis Luxton began the second half. Otis, who is a musician and maker & repairer of stringed instruments, delighted us all with some wonderful melodeon tunes, beautifully & sensitively played.
ALMA were a real treat to listen to next. The Band brings together fiddlers John Dipper (English Acoustic Collective) and Emily Askew (Askew Sisters) with guitarist Adrian Lever (Arhai). They are a very talented group of musicians playing music from England and across the world, such a joyful sound of fiddles playing in harmony and blending with the guitar.
Hushwing then took to the stage playing & singing local tunes,a great group and very entertaining. They were joined by a row of four steppers in front of the stage. Where do they get their energy from? Must be the yummy cake!!
The evening ended, as all good things must, with a return of the Company of Horham Old School with lively music, which of course called for the steppers to show us their skills.
EATMT Volunteers, helpers & caterers served food & drink & kept the whole evening running smoothly.
It never ceases to amaze me how many very talented people there are in East Anglia and what can be done if like-minded people come together to have a good night out.
Well Done Laura and Team! More please!!
Mike Lawrence - pics by Laura Cannell and John Heaser