by Les Ray

Strummers' 3rd Birthday Bash - CB2 Bistro, Norfolk Street, Cambridge, 26.1.19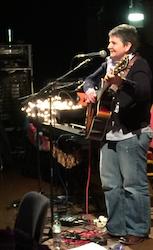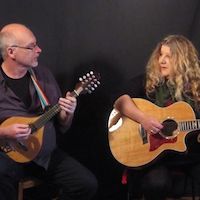 Back in early 2016 Deirdre Murphy persuaded a group of like-minded musician friends to join us in setting up Strummers - with music with a social conscience as its tagline - as we felt there was a demand for a left-leaning club on the local folk scene. After two years, we made the tough decision to leave the club to devote our energies to our band Red Velvet, confident that we had left it in very capable hands.
It was therefore a great pleasure for me to go along to Strummers' 3rd Birthday gig on 26th January, to catch up with old friends and - of course - to listen to some great music. The line-up for the evening was very strong: singer-songwriter Tony Phillips, exciting folk duo Causton and Walker and chocolate-voiced Norwich-based songster Marina Florance.


The basement at CB2 is always buzzing with anticipation when there's a good crowd in, and this night was no exception.
First up was Tony Phillips, performing his recently written material, accompanied by Richard Twigg on mandolin and harp, Andrew Martin on cajon, Marie Mace on bodhran and Tony Mace on flute/whistles. My personal highlights of Tony's set were Resistance, with its Middle-Eastern melody line and spellbinding lyrics, and The Singer and the Song, his tribute/eulogy to Roy Bailey, who first fostered Tony's passion for both sociology and music.
From the moment she steps onstage, Marina Florance has the audience in the palm of her hand. There is a special intimacy that she creates with her gentle songs and relaxed, unassuming manner. Marina's 45-minute set seemed over in a flash, but for me the standouts were Coffee Shop Song, a beautiful little love song, Sirens, written after attending a Warm & Toasty Memory Afternoon at the Clacton Widows' Friendly Group, and Every Woman, inspired by the overwhelming sense of freedom Marina felt on a drive back from Cardiff. Marina's set ended with the Bonnie Raitt-esque Big-legged Woman, which she introduced, to the audience's delight, by saying: If you can't do anything about your legs, you might as well sing about them.
The evening concluded with duo Bryan Causton and Penni McLaren-Walker, who are - though I hesitate to use the word - veterans of the local folk scene, and among the busiest people I know. They are equally confident with tunes and jigs of the local folk scene, and among the busiest people I know. They are equally confident with tunes and jigs, which is when Bryan's delightful spidery mandolin work comes into play, and with Penni's self-penned ballads, such as Fen Woman, written for the Fen Songs project with poet Clare Crossman, and Song of the Fisherman.
One song of theirs that I hadn't heard before was Keeping Tradition Alive, with which the audience sang along enthusiastically, clearly approving of the sentiment. After all, that's what Strummers are doing!