Winter Wilson – Canopy Theatre, Hungate Church Beccles – Saturday 14th January 8.00 p.m.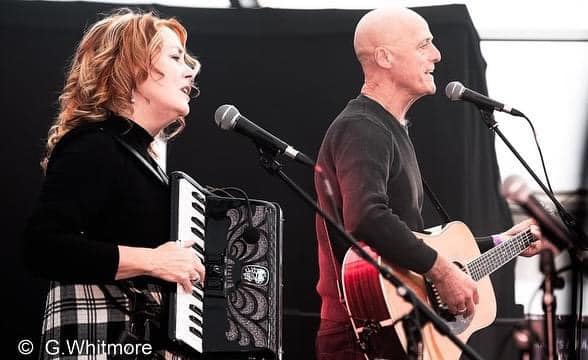 The highly popular and talented duo of Kip Winter (vocals, flute, guitar and accordion) and Dave Wilson (vocals, guitar and banjo) return for their fifth appearance at this excellent venue.

They are one of the hardest working and most sought after duos on the circuit with gigs all year round up and down the UK and regular tours abroad across mainland Europe, Canada and Australia.
It is in live performance where these two really excel. Now in their 11th year as full-time musicians, Kip and Dave bring a sense of intimacy to every venue, blending superb, often hard-hitting original songs, stunning harmonies and musicianship with sometimes hilarious humour and tales of life on the road. Kip "simply has a voice to die for" (John Roffey, Maverick Magazine), whilst Dave is rightly recognized as being amongst the top tier of British songwriters, with his songs sung in folk clubs across the UK and beyond. Together, their voices are sublime.

Their "Live & Unconventional" CD recorded on their 2019 tour with Fairport Convention demonstrates all this brilliantly and received glowing reviews from both RnR Magazine and Living Tradition Magazine.
Since their last visit to Beccles they have released a new studio album "The Passing of the Storm" to glowing reviews.

You will laugh; you may cry. You will certainly want to see them again!

For more info, music and videos visit https://www.winterwilson.com/
Tickets are £10 available from www.ticketsource.co.uk/martello-promotions