SARAH McQUAID – Canopy Theatre Hungate Church Beccles – Saturday 3rd December at 7.30 p.m.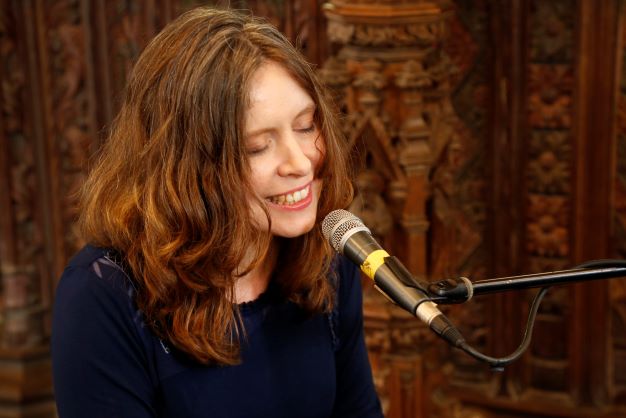 "Sarah was just fantastic – she had a sold out audience captivated from start to finish."— Ards Arts Centre, Northern Ireland

Sarah was born in Madrid, raised in Chicago and encouraged to sing and play music from an early age. She moved to Ireland in 1994 and lived there for 13 years, working as a music journalist and magazine editor.

Her debut album focussed on Irish traditional music and she launched her solo career on Irish national television. By her 2nd album in 2008 she had moved to England. It was a celebration of old-time Appalachian folk, with Sarah's arrangements punctuated by her own compositions.

In April 2017, Sarah was presented with a Lifetime Achievement Award by the Ards International Guitar Festival in Newtownards, Northern Ireland in recognition of her innovative use of the DADGAD tuning and her authorship of The Irish DADGAD Guitar Book.

Sarah's latest studio album (her 5th) If We Dig Any Deeper It Could Get Dangerous (2018) was produced by guitar great Michael Chapman. It drew rave reviews internationally: fRoots said it was "a collection tosavour" and The Vinyl District called it "A major statement in contemporary folk."

In 2020 Sarah released The St Buryan Sessions recorded and filmed live in a beautiful medieval church near her home. Released to widespread acclaim in October 2021, it features stunning solo performances on acoustic and electric guitars, piano and floor tom tom drum, with her lush, distinctive vocals echoing through the soaring space. You can watch videos from the sessions here: https://youtu.be/PHTw4llO4q8

Sarah is a regular visitor to Suffolk, but this will be her first time performing in Beccles, where the wonderful natural acoustics of the Canopy Theatre will provide the perfect surroundings for a great evening of music from an internationally acclaimed artist.

Seehttps://sarahmcquaid.com/ for more music, video & info.
Tickets £10 from www.ticketsource.co.uk/martello-promotions