Ceilidh with Whirligig Ceilidh Band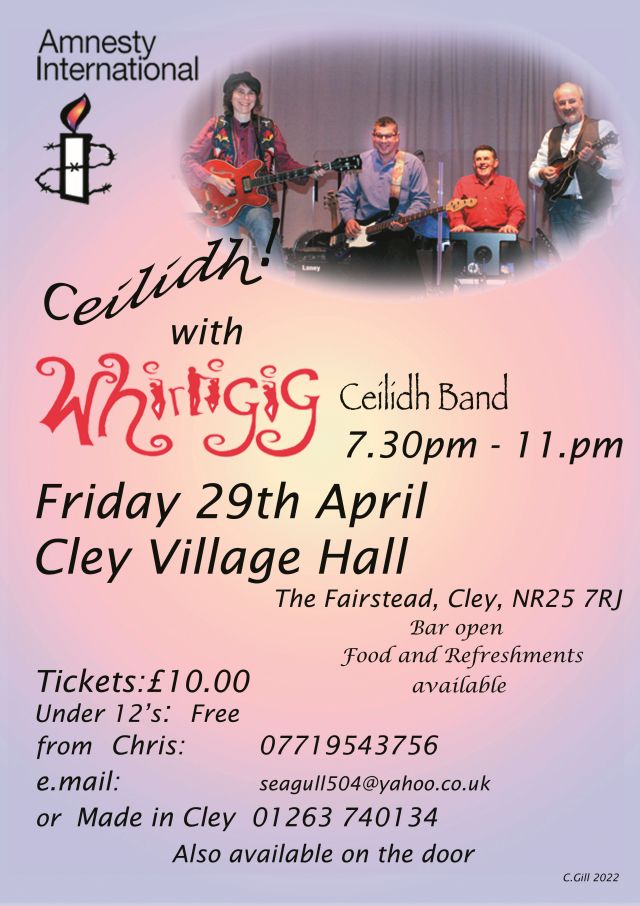 The North Norfolk Amnesty Group are holding a ceilidh in Cley Village Hall.
This will be our 3rd Ceilidh in Cley, a venue we have always found to be very hospitable and successful. Sadly the pandemic twice forced a delay in holding this event but we are really pleased to once again have the Norfolk ceilidh band 'Whirligig' playing for us. This will be their 2nd appearance and it looks to be a great evening of music and dancing. To keep the dancers going there will be food and refreshments available and the bar will be open.
The ceilidh will be on Friday 29th April on from 7.30pm - 11.00pm.
Tickets are £10.00. Under 12s get in free! and are available from
Chris : 07719 543756 or email: This email address is being protected from spambots. You need JavaScript enabled to view it.
Made in Cley: 01263 740134
and available 'on the door on the night...'
Chris Gill
077195453756
Secretary, North Norfolk Amnesty Group