MEGSON Present "A Yuletide Carol"
Canopy Theatre, Hungate Church Beccles Sat 4th December at 7.30 p.m.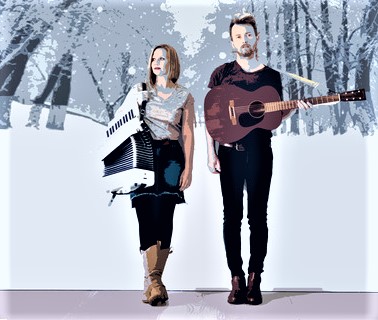 A very warm welcome back to north Suffolk for this husband & wife duo who bring an infectious mix of heavenly vocals, lush harmonies and driving rhythmic guitars. Comprising Debs Hanna (Vocals, Whistle, Piano Accordion) and Stu Hanna (Guitar, Mandola, Banjo) Megson have gained fame on the British folk scene, not only for their arresting & intelligent songwriting, but for their exquisite musicianship and northern humour.

Four times BBC Radio 2 Folk Awards nominees and double winners of the Spiral Earth Awards, Megson will be performing a very special seasonal show entitled A Yuletide Carol. The show will combine a mixture of classic seasonal songs and undiscovered carols as well as a sprinkling of their own original Christmas songs written in the Megson style fans have come to know and love. Expect to laugh, cry and sing along with these exceptional musicians in an evening which is certain to get you in the festive spirit.
Since the first lockdown began, Megson have released 2 new albums, the first a collection of highlights from their many online streamed shows and the second (released this month) a tribute to north eastern songwriters called Unknown Waters.

In recent times the duo have also released a CD of A Yuletide Carol and a download only EP Through The Winter. Songs from these two releases will be featured heavily in this special seasonal show in the wonderful surroundings of Hungate church, decked out with decorated Xmas Trees and a life-size nativity frieze!
Although this is not a socially distanced show, the temporary layout of the church for the Christmas period means that the usual full capacity is significantly reduced and as this is Megson's only seasonal show in the east of East Anglia you are advised to get your tickets early. They cost £15 and are available in advance only from www.ticketsource.co.uk/martello-promotions

'The most original duo on the British folk scene.'Robin Denslow – The Guardian

'A force in the folk revival' Neil Spencer – The Observer

'Simply Brilliant' The Sunday Express

Check out www.megsonmusic.co.uk for more info and videos