EDGELARKS – CANOPY THEATRE, HUNGATE CHURCH, BECCLES – SATURDAY 7TH MARCH - 7.30 p.m. - £14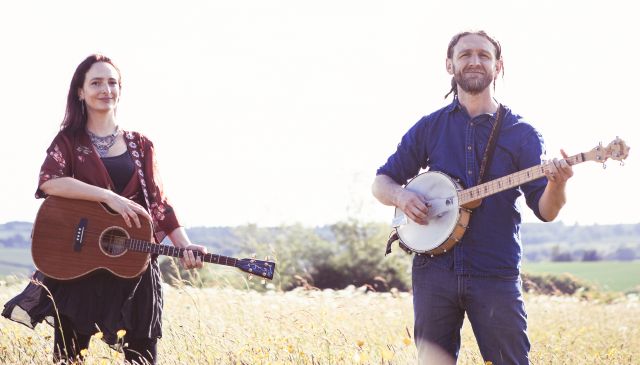 Cheerful songs are often an anathema to folk singers. But for the estimable Edgelarks,their fifth studio album seemed the perfect time to release Feather, a collection of unruffled songs suffused with hope, joy and celebration - 'bright songs for dark times'.

Phillip Henry and Hannah Martin have proved themselves one of the most captivating and innovative acoustic duos in the UK - winning the 'Best Duo' accolade at the 2014 BBC Radio 2 Folk Awards and being nominated for the same title again in both 2016 and 2018.

It's a class act built on Henry's much extolled musicianship, Martin's highly original songwriting and her deep, soulful voice. The Devon duo have been making 'world music from the West Country' since 2010 through four acclaimed studio albums - Singing the Bones, Mynd, Watershed and most recently, after re-naming their act, the eponymous Edgelarks,plus the 2014 live album Live in Calstock.

Feather comprises 10 beguiling original songs and a unique take on a traditional English folk song. Henry again conjures incredible sounds on dobro, lap steel and beatbox harmonica, while Martin excels on banjo and fiddle and that wholly distinctive vocal.

Not only is it an album pumped full of peace and joie de vivre; it also sees Henry, following on from his 2018 solo album True North, stepping up his vocal presence. Pushing more musical boundaries, the fluttering Feather (which was released in May 2019) dips and dives managing at the same time to be graceful and majestic, fragile and strong, sometimes mystical, sometimes direct but always soul-stirring.

Tours have taken them to Australia, Japan, South Africa and Canada and the initial promotional tour for Feather involved an extensive 18 date UK jaunt. The latest tour brings them to the wonderful venue of the Canopy Theatre in Hungate Church Beccles,an ideal setting to perform the hopeful songs contained on the latest CD and much more besides.
Tickets available from Beccles Books, Exchange Square, the Wine Vaults, Blyburgate and online at www.ticketsource.co.uk/martello-promotions
Here's a link to a video of Wander