Written by Dave Bartlett
Robbie Callas Cup February 2019 at The Oakes Barn Bury St. Edmunds
Our fifth Robbie Callas Cup Folk Singing Competition– and still as popular as ever. There were the usual last minute contacts confirming that people were going to be there and this was the title of their chosen song (the songs should be traditional or in that style). In the end two people couldn't come and one, unfortunately, wasn't up to singing – well… it is the season for dodgy throats, coughs and splutters but the show went on regardless and we hope they have now fully recovered. We had fifteen entrants this year.
It brings to mind the last time I saw Robbie at the Dove folk session back in 2013 - was it? - when he'd discharged himself from West Suffolk Hospital (ill-advised though that was) and walked to the pub to sing. What a trooper. Certain of the folk community kept an eye on him towards the end and some of us sang at his funeral – perhaps we didn't all know him that well but I'm sure he appreciated a folksong or two to see him on his way.
Shortly after Robbie's passing The Bury Folk Collective was established at Oakes Barn in Bury St. Edmunds which had opened in November 2013. The new community-spirited pub kindly agreed to use of their wonderful upstairs room for our events and it was then that the TUFS evening was born (along with two other folk music nights on first and third Wednesdays). Traditional Unaccompanied Folk Singing evenings on the first Monday of every month soon included The Robbie Callas Cup once a year in February. They're all still running.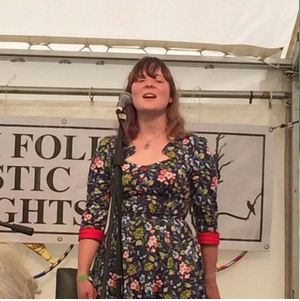 Be in no doubt that last Monday at The Oakes Barn a sense of folk-style competition was in the air; that is to say a friendly, laid-back, have-a-go ambience and an easy esprit of may-the-best-woman-or-man-win. This year a third of the contestants were female as is the very talented young winner Megan Wisdom, who is featured in a profile published elsewhere in this online magazine. The evening's selection of songs varied from Roger Watson's 1970s composition Cathy Shaw sung by Jean Atkinson about a feisty coalmining Derbyshire lass to David Rumble's fine rendering of the more traditional Banks of Sweet Primroses, a song closely related to the Copper family and more southern vistas. It was, however, Megan's Constant Lovers that won the day and I'm sure Robbie would have approved of his cup going to such a gifted young woman whose interest in traditional folk music seems to know no bounds.
As I mentioned to the assembled folk devotees it takes some courage to perform a song unaccompanied and I certainly doff my battered folkster's hat to everyone who took part in this year's Cup. Some have felt encouraged to start singing since coming to listen and help at these evenings and they now sing with confidence and verve. The voice is a choice of instrument – it can tell the story and the story is the all.
This town had an active folk club in the 1960s starting at The Cricketers and then St Edmund's Head with such luminaries as The Watersons and Young Tradition appearing. Robbie was also there helping out back in the day. Without people like him and those today who shun the sofa and TV to come to the likes of TUFS, we would have no folk singing in public. The tradition of folk singing in hostelries goes back for generations…….. but tradition is a fragile creature.
Congratulations to Megan and also to David Cambridge and Simon George-Kelso, who tied as runners-up. The cup will be engraved with her name and she gets to keep it for a year's ale drinking - if ale be her drink. I know that Megan has an interest in dressmaking and clothes design; I'm glad to say that over the almost twenty years I've lived in Bury I've been privileged be involved in a gradual re-embroidering of the warm colourful cloak that is folk music; it encompasses you; it's cosy; it's fine music and a fine community.