You are here:  

NO STRINGS ATTACHED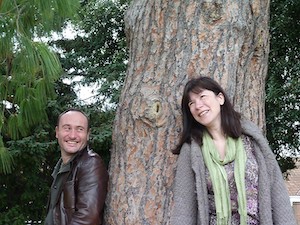 WHAT WE DO
We are Anglo-French folk singers bringing our own lyrical style to (mostly) traditional songs from England, Brittany and beyond. We follow the oral tradition of learning and performing by ear, and the great majority of tunes have harmonies arranged by us. We have sung at venues large and small in Suffolk and Essex since 2010.
Highlights so far include performances at the Woolpit Music Festival and FolkEast, as well as singing as support for well-established folk acts such as Michael McGoldrick, The Churchfitters and the legendary Martin Carthy.
We recorded our first CD, Of Love, Death and Cider, in 2011 and our new CD, Unto Some Foreign Land, in 2013.
"No Strings Attached are…quite exquisite. We first saw them at an Open mic/Singers night here and they blew us away. A mixture of French and British songs sung with beautiful harmony." (Terry Walden, Milkmaid Folk Club, Bury St Edmunds.)
"Delighted to hear this excellent duo at Woolpit. Made my evening" (Geoffrey Stapleton on Facebook).
WE CAN OFFER
Concert spots - from 30 minutes to full-length folk club sets
SAMPLES OF OUR MUSIC
Of All the Birds
Bay of Biscay
CONTACT
Phone 07415280215 / 01206765116 / 07501851411 / 01449768036
Email This email address is being protected from spambots. You need JavaScript enabled to view it. / This email address is being protected from spambots. You need JavaScript enabled to view it.
Website No Strings Attached Facebook