Bands which play traditional music for traditional dances seem, on the face of it, somewhat anachronistic in 21st century England – the entertainment equivalent of other relics such as coal fires, private grocers, hot water bottles and church services.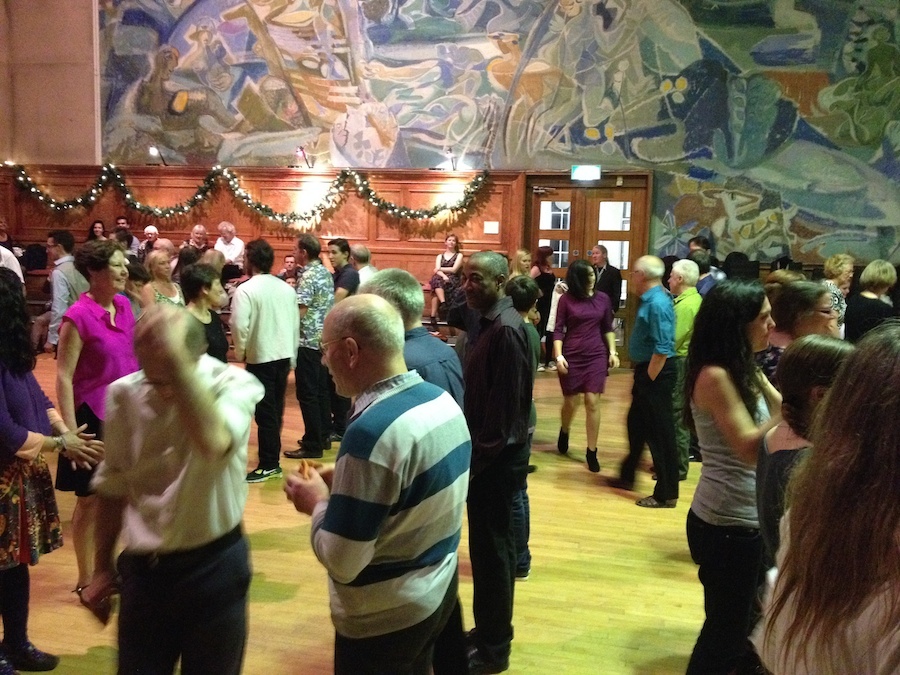 The amazing thing is that traditional dance bands still exist at all. Ceilidh bands, barn dance bands, whatever you like to call them, and the events they play at – and there are hundreds of them up and down the country – are not just another facet of the heritage industry, quaint reminders of bygone times, revived or preserved for the benefit of tourists or nostalgia freaks eager to experience Merrie England first hand. What saves these present-day dance bands from this living death is that, unlike many other modern musical entertainments, they have a function independent of the leisure industry – in fact beyond entertainment.
Looking back over the last few years well over 90% of our Hosepipe Band bookings have had an identifiable social function. About half of these have been celebratory in nature – mainly weddings or birthdays, but also May Day, Millennium, Mid-summer, Christmas, New Year's Eve etc. The next most popular category could be called congregational for want of a better word: dances put on by clubs, societies, school PTAs, churches and other community organisations. A small minority of these dances were fund-raising events, but even in these cases it is not accidental that a 'traditional' dance was chosen in preference to a sponsored sleep or a craft fair.


So why are our kind of dances chosen over the alternatives: discos, cabaret spots, magician's parties, rock pop or jazz bands? The answer is simple – brides and bridegrooms-to-be, husbands or wives of the soon-to-40,50,60-year olds, club secretaries, parish councils etc. want to put on events which will bring their families or communities together. Social dancing is an antidote to the techno age and the economically driven Royle Family entertainment choices offered to us: if you're not into solitary digital pleasures there's always the alternative of mass attendance with minimum involvement at hyped public events – DJ clubs, night clubs, rock concerts, cinemas, car boot sales, out-of-town shopping centres, football matches etc.
I may be accused of presenting an idealized view of these functional traditional dance events, but where else can three or four generations mix on equal terms? At a recent birthday party I noticed three children – one under ten, two between 12 and 16 – dancing with their grandfather who'd had a bit too much bubbly. 'Right-hand circle Granddad - not left!' said the under-ten to the wobbling 70-year-old next to him. At a wedding the bride's awkwardly cool teenage brother was persuaded reluctantly (forced actually!) to dance with his sister's new mother-in-law. As you can imagine, there was embarrassment all round at first, but after a couple of times through the Lucky Seven, they were like old friends - the mother-in-law in her posh dress, high-heeled shoes and wide-brimmed hat, giggling uncontrollably at her own inability to count to seven. Then there were the aging rockers and hippies at the New Year's Eve do, patiently giving instructions to some of the under-fives who had kept themselves awake for the final Circassian Circle hours after their normal bed-time. Great grandma in her eighties at the Millennium street party insisting she had enough breath to do the Cumberland Square Eight and being advised by the caller to do the safe version as her hip-replacement might not stand up to the legs-flying version. The list is endless.
Having made the point that these events are primarily functional not entertainment, I am not suggesting they are not entertaining. If they didn't entertain, people wouldn't go on putting them on for their social functions. But when traditional dances are organised as pure entertainment, it's a different matter. I'm thinking here of those regular dance events put on for the benefit of communities but not organised by them: the regular dance venues which run monthly or bi-monthly up and down the country. The truth is that many of these venues struggle to survive - their survival often depending on bands taking a lower than usual fee (or a % of the takings) and a no-risk policy as to which bands are booked – the same small group of bands being put on year after year to ensure the faithful core of punters keep turning up.
The problem is that these are not community events in any real sense. They are no more a sign of the strength and popularity of our type of music and dance than capacity crowds at a Gerry and the Pacemakers reunion concert prove that the Mersey sound is alive and well.
To add to the complication, most bands like us want to have our cake and eat it - we've all got stars in our eyes. We want to be part of a tradition that is the antithesis of the star system and at the same time build a fan base and play music for people who appreciate what we do for its own sake; we want people to like our music and buy our CDs, devotees who'll travel the length and breadth of the country to dance to us. We want reviews in the folk press - beyond if possible! - and radio play; we think we are the equals of bands playing other kinds of music whose commercial success we both despise and envy. We're reluctant to accept the fact that, as mass entertainment, our kind of music and dance is dead. This was brought home to me in a particularly painful way when we played for a dance organised by a London borough council in a community centre. Eight people turned up. The organiser and his partner made a vain attempt to encourage them to dance, but after they'd stood at the bar, and drunk a couple of pints, they left with a look of disdain and puzzlement on their faces.
Far from regarding this as a sad situation, we should be proud to be seen as functional. It's when we stop being asked to play for weddings and birthdays that we should start worrying. If, from time to time, we get to play at festivals and regular ceilidhs, where people like our music and buy our CDs, that's icing on the cake. If we have to depend on these 'folk events', we'll be spending lots more Saturday evenings in front of the telly watching Stars in their Eyes.
Simon Haines (This article first of a series of articles I wrote for ESD Magazine in the early 2000s)