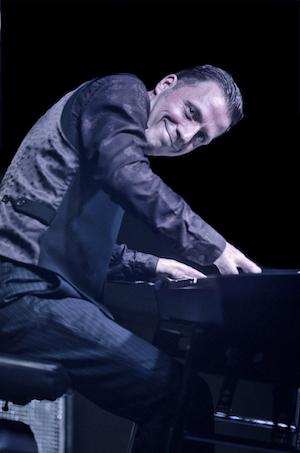 VIRTUOSO New Orleans pianist, singer and raconteur Dale Storr - one of the big hits of the Blues at the Barns 2018 festival - is returning, by popular demand, at the Blue Boar, Maldon in early June.
Dale will play again in the Long Room at the historic Blue Boar Hotel. on Friday, June 7, reprising his wonderfully-entertaining "Sounds of New Orleans" show, playing tribute to Crescent City piano greats, such as Dr John, Allen Toussaint, Fats Domino and James Brooker.
A seven-times British Blues Awards nominee and winner of the 2015 Buxton Fringe Festival Best Musical Performance Award, Dale is being brought back to Maldon by Blues at the Barns promoter, Burnham musician, writer and broadcaster Tim Aves.
Tim said: "Dale launched our bi-monthly Friday night series last year and was a big hit with a local crowd, which was no surprise, as he's an amazing musician and a true enthusiast for the music of all those great N'Awlins performers.
"Dale has immersed himself in the culture and as well as playing and singing, he tells wonderful - and sometimes spicy - tales from the city's long and rich musical history. It's a musical history lesson - but a ton of fun, too!"
Singer and pianist Dale won numerous school and county music competitions as a boy, performing in venues in his native Sheffield from the age of ten. A career as a sideman saw him work with blues-rockers King King, 60's star Dave Berry, American soul singer Earl Thomas, and US guitarists Rocky Athas (Black Oak Arkansas) and Eugene 'Hideaway' Bridges, among others.
In 2006, Dale decided to follow his true passion - the evocative music of New Orleans piano heroes such Professor Longhair, Dr John, Allen Toussaint, Tuts Washington and James Booker - and forge a successful and acclaimed solo career.
On June 7, expect to hear anything from a classically-influenced minuet, a latin rhumba, a back o'town junker blues to a frenzied boogie woogie.
The show is in the Long Room, upstairs at the Blue Boar, in Silver Street, Maldon, on Friday, October 5. Doors open at 8pm and admission is £10. The venue has a limited capacity but tickets can be reserved in advance by emailing timaves1@gmail or calling 07979 601197.
For more information about Dale Storr, along with video and audio clips, visit www.dalestorr.com