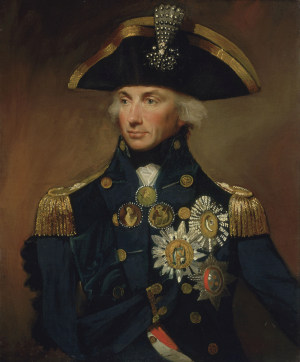 THE SONGS OF LORD NELSON
THE VICTORY AND TRAFALGAR
An illustrated talk with LIVE music and song
presented by Brian Gaudet and the Norfolk Library Service
 at "Tracks", The Railway Inn, North Elmham, Dereham, Norfolk
Wednesday 20th June, 7.30pm
(see other dates and venues below)
Admission £5 including refreshments
Tickets from 01362 668854 or This email address is being protected from spambots. You need JavaScript enabled to view it.
picture courtesy of Norfolk Library Service

British naval hero Horatio Nelson will be remembered in a series of Norfolk musical folk talks this summer.
Singers and musicians from the county's folk scene will celebrate Nelson with traditional ballads, broadsides and tunes as well as shanties, monologues and contemporary songs and poems.  "Norfolk Hero - the songs of Lord Nelson, The Victory and Trafalgar" is lined up for three library and pub venues, with more expected later in the year.
The two-hour talk features a PowerPoint presentation, a narration by north Norfolk folkie Brian Gaudet, and plenty of music and song.
It follows previous talks by Brian on Norfolk singers Peter Bellamy, Walter Pardon, Sam Larner and Harry Cox as well as a survey of a century of Norfolk folk song collection.
Each of the new talks will feature a different "crew" of some of the best-known singers and musicians drawn from the local area. No folkies have been press-ganged in the process.
A short version of "Norfolk Hero" was presented to Norwich Community History Group in January and the new, 100-minute, version had its world premiere on Saturday 19th May at the library in North Walsham where Nelson attended the Paston School before going to sea at the age of 12.
The talk launched a week of celebrations to mark the 50th anniversary of the library moving to its current home. 
"Norfolk Hero" will also be presented at:
 - "Tracks" at the Railway Inn, North Elmham, on Wednesday 20th June at 7.30pm followed by an open folk session. Tickets £5, from Tony Langford on 01362 668854 or This email address is being protected from spambots. You need JavaScript enabled to view it. 
 - at Sheringham Library at 2pm on Thursday 21st June. Tickets £5, including refreshments, from (01263) 822874 or This email address is being protected from spambots. You need JavaScript enabled to view it.

 - and at Cromer Library later this year and at Aylsham Library in 2019. Talks are also underway for "Local Hero" to be aired at Holt, Fakenham, Wells and Wroxham libraries.
Author - Brian Gaudet