The Dancing Out Season Starts Soon
As the "Beast from the East" goes back home (Russia is suspected!) and we are promised warm weather next week here's a timely reminder from Giles that the Morris dancing summer season will be starting soon.  Hageneth and loads of other sides will be at Hundon, near Haverhill, for the 10th anniversary of the Belchamp MM event on 22nd April. 
Let's hope it's not raining; remember, "it never rains on the Morris!"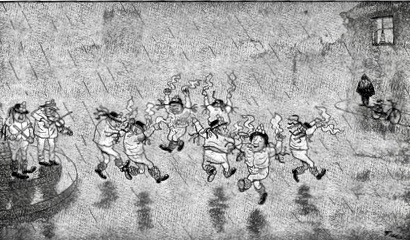 The merry month of Maying...With a fa, la, la... and a fa, la, la... And in three weeks' time, the nights
 Dave Evans - with thanks to Brian Francis of Hageneth who found this old Giles cartoon, probably from The Daily Express

HOLT RIDGE MORRIS (Mixed Cotswold) have moved and now (12th April 2018) practice on a Monday evening (8-10pm) at Marsham Village Hall except on the second Monday of the month when they can be found at Aylesham Village Hall. Contact: Mick Selvey 01953 882453 or email This email address is being protected from spambots. You need JavaScript enabled to view it.
Dave Evans (info from Jill Parson)

Halesworth Day of Dance; Oxblood tames the mini Beast from the East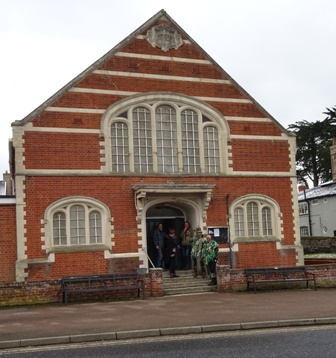 The wonderfully warm Rifle Hall, Halesworth
Congratulations to Oxblood Molly for planning ahead and managing to put on a successful day of dance despite the return of snow and below zero temperatures.  Oxblood correctly anticipated that nobody would want to dance outside, especially as there would be no audience.  At the last minute they managed to book a warm indoor venue and the 14 sides that braved the weather were rewarded with dancing in the warmth of the Rifle Hall in Halesworth.  10 sides had to drop out as the snow had made some roads in Essex impassable.
(For a full report see Gill's article on Oxblood Molly Day of Dance 17th March 2018)

Dave Evans
Weavers Morris - All Up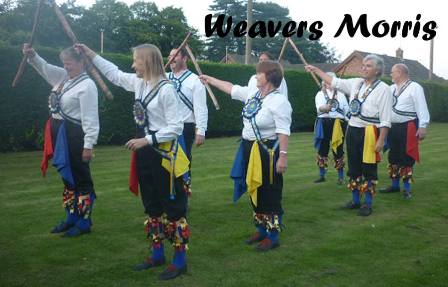 Mick Wade of Weavers Morris contacted Mardles to let us know that "due to membership problems" Weavers Morris a mixed Cotswold side based in North Walsham has decided to wind-up.  They were founded in 1995 and have been regular visitors to the famous Lobster Pottie festival in Sheringham.  They had an active programme until last year and danced at various village events in North Norfolk, including the Mundesley Lifeboat Day.  They have been good fund-raisers for local charities including for "Nelson's Journey" which supports children and young people that have experienced the death of a significant person in their life.  As far as is known no collection has been organised for Weavers Morris!